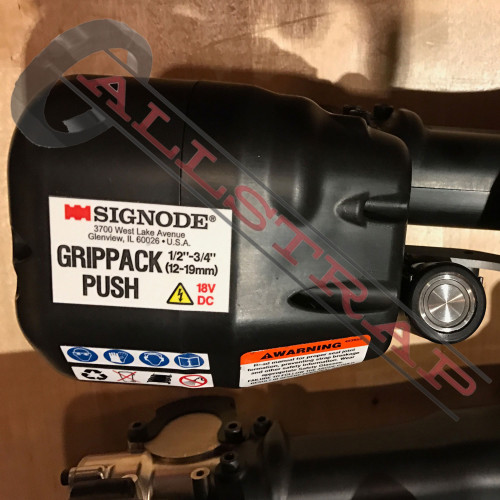 GripPack Push
Signode GripPack Push
Signode
Coming Soon
---
Available Options
Signode GripPack Push
Signode GripPack Push, battery powered push style combination tool

Update 4-22: The Grippack Push will likely get renamed the Signode BPT-L19 (click to link) and may come out in 2022.
The Signode GripPack Push tool is used with 3/4" (and soon 1/2", and 5/8") closed/pusher style seals on steel strapping. Battery power makes it very mobile, and it runs on the single push of a button. We expect this tool to pull 700 pounds of tension, and be faster then the pneumatic PNSC2-34 (click to link). Use this tool on round or irregular bundles like pipe and rebar.
This battery powered pusher combo tool may soon be released by Signode. Update, there is no known release date for the Grip Pack Pusher tool 11-19.
Specifications
Strap Type: Magnus or regular duty
Strap Width: 3/4"
Strap Thickness: .020-.025"
Seal Name: 3/4" push seal
Joint Type: Single Notch
Weight: 8 pounds
Allstrap Opinion
The GripPack Push is our favorite new tool we have seen from Signode since the PRHR-114 more then two decades ago! We got to play with the PUSH grip pack with Signode in Chicago in November of '16, and were impressed with how great of a tool it was.
The Grip Pack Push is well balanced, and felt natural in your hand. It is 3 pounds lighter then the PNSC2, plus no pneumatic cord to pull around. It is also way faster. Hit the button, and the tool takes over. It pulls up tension, and seals/cuts all in one. If you blink, you'll miss it, it is fast!
The lone down point is that they use the old brushed motor. In the early 2000s we expected low end drills to have a brushed motor, but today every brand has stronger, lighter, and more efficient brushless motors… But not the Signode Grip Pack Push battery tool. We have communicated the need to Signode's engineers, and we hope they upgrade in their next version.
Pricing is estimated, and will be corrected when more information is available. Batteries and charger are available a la carte.
Videos
Signode Grippack Push 34 pusher combo tool battery powered
Related Products