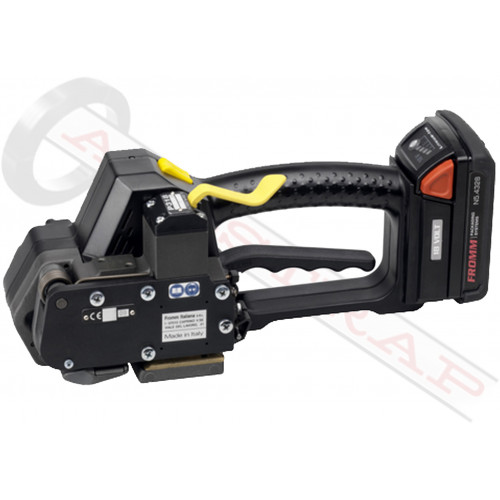 Usually Ships in 2-5 Days
Fromm P318 Battery Powered Plastic Strapping Tool
The Fromm P318 is part of the new generation of Fromm battery powered plastic strapping tools. Housing an 18 volt motor, the P318 is a durable, reliable and efficient strapping tool. Its Lithium Ion technology ensures top performance and battery longevity and allows a high capacity of up to 600 strap cycles per battery load.
With an average seal strength of 75%, the P318 ensures sufficient security for all applications. This tool is available for use with a suspension bracket for alternating positions.
Strap Qualities: Polyester (PET) and Polypropylene (PP)
Strap Dimensions: 3/8" – 1/2" x .015 – .031"
Sealing Type: Friction weld
Weight: 3.4 kg / 7.5 lb. (including battery)
Strap tension: 150 – 800 N / 34 – 180 lb. (adjustable)
Tensioning speed: 150 – 300 mm/s / 5.9 – 11.8 inch/s
The P318 is generally available rebuilt, please call for rebuilt pricing. Need your P318 Repaired? Send it to our tool repair department for a quick turnaround.
Allstrap opinion:
This Fromm P318 tool is of the easiest to use on the market, mainly because the BXT3-13 is not in the US. This is a good tool, but it is a generation behind the current P328/328S/329/329S/331 and stuck with the P326/327 which have an ugly lever that starts the weld. I don't like the lever, because when it gets hit funny, it breaks off. You are also depending on the operator to firmly press it down to not mess up the weld. I prefer a button to the P318, but this is currently the top tool in its class. Hopefully the P319 with buttons will replace the P318 one day.
Related Products