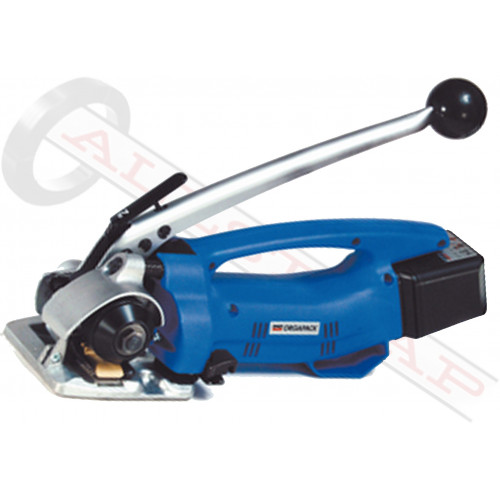 Usually Ships in 2-5 Days
Orgapack ORT 50 Battery Tool For Poly Strapping
The Orgapack OR-T 50 is a manual tensioning and battery sealing (friction-weld seal) combination tool. The OR-T 50 is the economical alternative to tools with metal seals. It is suitable for use on general to medium duty applications, but it can also handle applications that face aggressive conditions. The convenient digital display makes it easy to determine the battery charge level and set the strap tension and welding time.
The OR-T 50 pulls adjustable tension of up to 506 lb. With one battery charge, up to 200 strapping pulls can be reached. The OR-T 50 uses a 12 volt battery that can be charged up to 2,000 times per battery. The tool can be set to accommodate strapping of 5/8" or 3/4" x .019-.040".
Strap Qualities: Polypropylene (PP) and Polyester (PET)
Strap Dimensions: 5/8" or 3/4" x .019" - .040"
Max. Tension: 506 lb.
Sealing Type: Friction-Weld Sealing (electrically)
Tool length: 15.75 in.
Tool width: 5.0 in.
Tool height: 7.9 in.
Weight (including battery): 8.8 lb.
The OR-T 50 is generally available rebuilt, please call for rebuilt pricing. Need your OR-T 50 Repaired? Send it to our tool repair department for a quick turnaround.
Allstrap Opinion: Orgapack makes the only half battery powered and half manual tool. This tool gives the advantage of a battery powered weld, without the cost of the complete system. The OR-T 50 is a good entry level tool. However, if you strap more than 20 straps per day, you may consider the OR-T 250.
Videos
Orgapack ORT50 Battery Powered Weld and Cut, Manual Tension Poly Strapping
Related Products