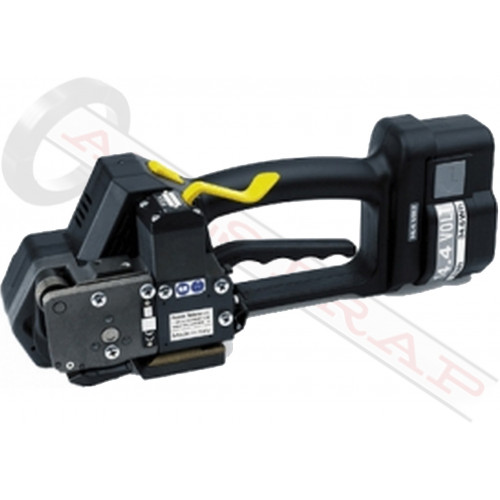 Fromm P325 Battery Strapping Tool for Poly
Update: The Fromm P325 has been replaced by the Fromm P327. Thanks to the battery operation, the working range is extended independently of any power supply, suitable for the application with light and heavy duty polyester strapping up to 0.053" of thickness with smooth and embossed surfaces. Tensioning, sealing, and cutting of the strap are accomplished by pushing the respective, ergonomically arranged press levers. Interlocking of the sealing lever during the sealing and cut-off cycle enables single hand operation and substantial time savings. Easy strap threading is achieved because both straps are inserted together. Strap tensioning and sealing-times are individually adjustable, resulting in perfectly secured packages. High seal efficiency is also guaranteed for the P325 and P327.
Strap Qualities: Polypropylene (PP) and Polyester (PET)
Strap Dimensions: 5/8 - 3/4 x .016 - .053"
Strap Tension: 600 - 3500 N (adjustable)
Sealing Type: Sealless
Power Supply: Battery 14.4VDC Weight: 4.4 kg / 9.7 lb.
The P327 is generally available rebuilt, please call for rebuilt pricing. Need your P327 Repaired? Send it to our tool repair department for a quick turnaround.
Allstrap Opinion: This tool pulls lots of tension. Some other tools are difficult to use with an HD .050" thick strap, but this tool is a dream to work with. It takes the heaviest of straps with ease. We are even bigger advocates of the updated P327 tool.
Update 9-2021: The Fromm P325 turned out to be not the best tool in Fromm history. The P325 ran NiCad batteries which did not hold a charge for long, and died too early. The side was too fragile, which could kill the motor when it gets bumped or dropped. The P329 and P329S are welcome upgrades and great successors to the P325!