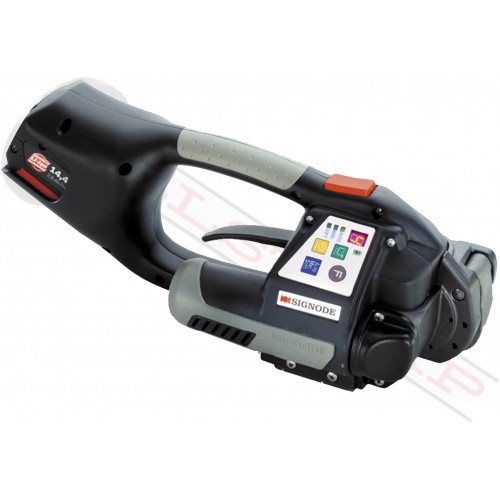 Discontinued
---
Available Options
Signode BXT2-16
BXT2-16 Battery Powered Combination Tool
The BXT2-16 tool is discontinued. The original BXT was replaced by the BXT2-16, which was replaced by the BXT3-16 (click to link). We suggest trying the new BXT3, the P328, or the P328S.

The BXT2-16 strapping tool keeps up many of the features loved on the BXT-16. This bander has many upgrades. The most important is switching to lithium batteries. The other big upgrade is using buttons instead of levers, which makes it easier to use and tougher. It uses a brushless motor, which produces more tension and lasts longer. This tool pulls plenty of tension for HD 5/8" PET strap.
The BXT2-16 is light and ergonomic. It has a second tension setting called "light" that is handy when strapping boxes. The light setting starts the tension cycle by slowly ramping up speed, and then stopping before you tear boxes in half. The main panel also let you use the tool in manual, or automatic modes. Manual mode lets you push the tension button and stop tensioning when you let go. To seal, hit the second button. For speed, use the automatic mode. Just press the "1" button and the tool will pull tension, seal, and cut all on its own.
Use the top adjustment to change tension. Hit the "F" or function button, then hit the green button to get to your desired setting. The yellow button with a clock symbol lets you adjust the weld.
Standard tension of 200-550 pounds with soft tension of 88-335 pounds! The Signode BXT2-16 has optional charger and 2.0 Amp Hour 18 volt lithium battery. Run it on either 1/2" or 5/8" x .019-.040" polyester or polypro strapping. The BXT2 is only 9.0 pounds.
For 3/8" use the P318
For 5/8" or 3/4" use the BXT3-19 or P329

For 1" or 1 1/4" use the P331 or BXT3-32
Allstrap opinion:
This Signode BXT2-16 tool is of the easiest to use on the market. The weakest two parts on the BXT were upgraded. The sealing lever (responsible for brining the welding mechanism down) was replaced by a button. The second trouble spot for the BXT was the NiCAD battery. Today all Signode tools use Lithium batteries. With these improvements, the Signode BXT2-16 is now tied as our top recommended tool (P328 is the other top tool)!
BXT2-16 review update March 2022: Looking back, this truly was a great tool. It was the most common tool we sold for about a decade, and has help up great. Even today, this is very common to see in warehouses, and it is easy to get your BXT2-16 repaired.
Videos
Signode BXT2 16 poly strapping tool video bxt2-16
Related Products