About Us
Contact Allstrap toll free (866) 779-2673
Allstrap has established a signature brand of quality and customer service in the strapping industry. With headquarters in Columbus, OH, Allstrap operates a regional sales force in Ohio, Detroit, Pittsburgh, the east coast, the mid south, west, and services the entire US market- making us leaders in the strapping industry. This comprehensive approach enables Allstrap to provide a vast assortment of products and services to over 5,000 customers in steel service, lumber, manufacturing, and distribution industries. Allstrap is one of the largest strapping distributors in North America. Customers find that partnering with Allstrap offers them access to numerous competitive advantages, including:
> Selecting the right tool from across many brands and machines
> Optimizing strapping (Steel, Cord, PET, PP, Nylon), strengths, and skid configurations
> High-volume purchasing power
> Multiple suppliers across all product categories
> Direct and warehouse availability, including consignment
> Specialized sales team
> Expertise in market conditions in various products
> Single source for all strapping needs
Setting Up Terms Want to set up terms with us? Send credit references to TH@allstrap.com or Fax to (614) 486-0510.
Demo Request Call Allstrap for an in-house demonstration for your staff, before you purchase. We have the largest stock inventory with more experience in strapping applications than anyone in the country.
Tool Rental & Repair We offer rental and repair services at Allstrap. Download the Tool Repair Form and/or Tool Rental form. Visit Tool Repair for more information.
Recognitions Allstrap Steel & Poly Strapping Systems LLC is renowned as a manufacturer and distributor of strapping and strapping products. In addition to its significant position in the packaging materials industry, Allstrap is a leader with innovative techniques, tooling, and consumable supplies.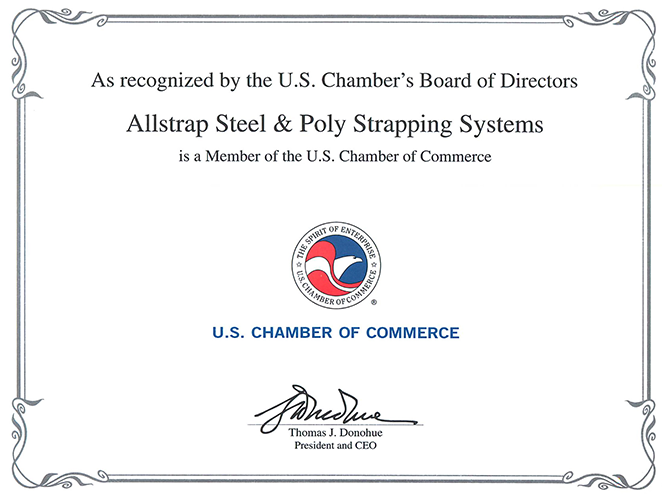 Upcoming Trade Shows

---
Thanks for visiting us at IANA in Houston, TX. You can see the newest ways to pack intermodal with lashing and battery powered tools.

Thanks for visiting us at Pack Expo in Chicago, IL. You can see the latest additions to industrial packaging. New strapping tools for both steel and poly strapping require little effort and are 100 percent battery operated. Battery operated strapping tools are one step ahead of the previous banding methods.
Thanks for visiting us at
West Pack
in Anaheim, CA.

Thanks for visiting us at Pack Expo East in Philadelphia, PA.

Thanks for visiting us at Advanced Manufacturing Cleveland, OH.

Thanks for visiting us at AIST in Nashville, TN. Awesome HD tools from Golden Bear will be ready to demo!
Thanks for visiting us at
PackEx Toronto
in Toronto, Ontario

Thanks for visiting us at Pack Expo Las Vegas, NV. New tool innovations from the top strapping brands.