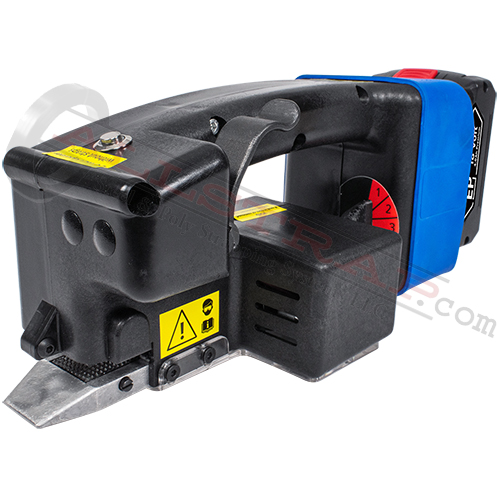 Encore EP-1260 Battery Powered Welder
The 1260 tool is used to weld polypropylene (PP) strapping. You will use a separate tensioner to pull it tight (try the 1150). The battery sealer can be applied from either side of the strap. Push the EP1260 onto both straps in front of the tensioner. Push the lever down to start the weld.
The hardest part about using the EP1260 is waiting the 2-3 seconds it takes to let the weld cool. Operators feel like they are not working, but the cooling is a critical step for the PP weld.
Other Options:
1. For 1/2" or 5/8" use the new P328.
2. For 5/8" or 3/4" use the screen version P329.
3. The Signode BXT3-19, or Orgapack ORT450
4. Manual tensioner like the ASC320, and sealer like the ASC330.
5. PET welder EP1265
6. Pneumatic welder Columbia
Order Parts & Tool Repair from quickly at Allstrap.
Strap Qualities:
Strap Dimensions: 1/2"- 1" x .016 -.053"
Strap Type: PP
Sealing Type: Friction Weld Sealing
Weight: 6 pounds including battery
Competing tools: ORT450, BXT3-19, B800
Allstrap Opinion:
The EP1260 is an interesting tool. It is only used on PP strapping (not the green strapping, try the 1265 for PET). We like the ability to weld, which gives a stronger joint when done right. This tool lets you use tough and inexpensive manual tensioners, but still get a weld. This is a new tool so we do not know how well it holds up, but we will update this review as soon as we do! For now, it is worth trying the EP1260 welder!