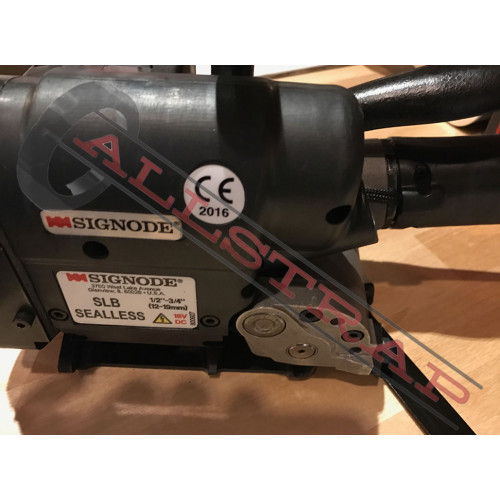 In Stock
---
Available Options
SLB Sealless
Signode SLB Sealless

The Signode SLB is a battery-powered combination tool used for steel strapping with widths of 1/2" to 3/4". This product is great for portability and is one of a kind in its industry. With the ability to band and apply a sealless joint, this product is great for heavy-duty applications. It delivers a consistent performance every cycle and is designed for optimal performance; which helps in eliminating the cost of air generation. If you're looking an alternative to the heavy pneumatic tools, this is your ideal tool.

Versatility:
This battery powered combination tool is easy-to-use and is a single-handed operation. The Li-Ion batteries ensure the tool pulls maximum tension while offering convenient mobility. The operator can easily move around the workplace with no air lines to deal with. In addition to conveniency, it is a cost of operation reducer compared to pneumatic tools of its kind. Many companies are seeing the benefit of one tool that operates the banding and sealing with one press of a button in just a matter of seconds! You get 100 cycles per battery charge.
What is in the SLB box:
This is for the tool only. You can get a la cart battery, charger, or battery/charger kit. We suggest 1 charger and 2 batteries per tool.
Order Parts & Tool Repair:
Need your SLB Sealless repaired? Send it to our tool repair department for a quick turnaround. Call Allstrap for an in-person demonstration. We keep Signode tools in stock, and have experience with HD strapping. We have factory-trained technicians ready to repair your SLB Sealless tool!
Specifications:
Strap Qualities: Steel Strapping
Strap Dimensions: 1/2"(19mm) to 3/4"(33mm) steel strapping in gauges from .017"-.025"(0.43 mm-0.64 mm)
Tension: 1/2" (12mm) up to 500 lbs.(2 224 N) with high take-up speed
5/8"-3/4" (16mm - 19mm) up to 1,000 lbs. (HS models).
Joint type: Three key sealless
Weight: 14 lbs. (6.35 kg) with slim battery, or about 15 with normal battery.
Operation: Lithium-ion battery
Sealing Type: Sealless
Part numbers:
SLB-12HS: 801234
SLP-58HS: 801233
SLP-34HS: 801232
SLB-34HT: 801231
Allstrap Opinion: This is a fantastic tool that is convenient to use. We do wish the balance was better, but the speed is very good. There is a second battery powered sealless tool at a fraction of the price, check out the Yukon! The Signode SLB sealless tool is an innovative battery-powered combination tool that will be sought after for many years to come.
Videos
SLB Sealless
Signode SLB battery SLP pneumatic SMC sealless combo strapping tool
Related Products