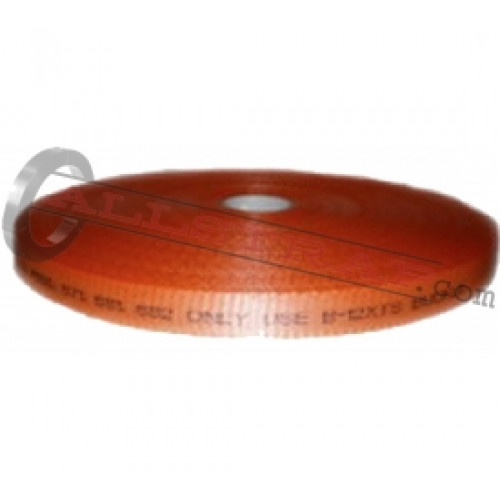 1.25 inch Cord Strapping
Gator Lash 8030 and 8031
In Stock
---
Available Options
Gator Lash 8030 and 8031
2035 HD Woven Cord Strapping

2035 for 1 1/4" cord strap, with 3,285 pounds break strength. Must order by the pallet, 48 coils per pallet. $40.00
2035-2250 HD Woven Cord Strapping
2035-2250 for 1 1/4" cord strap with 3,285 pounds break strength. Must order by the pallet, 27 coils per pallet. $150.00
2040-AAR Woven Cord Strap
1 1/4" (1.25 Inch) x 3,285 lb. break strength x 600' Orange cord strapping. They come 4 coils/case, 61 lb. /case. AAR approved and printed.
2040 for 1 1/4" Cord Strapping
Break strength 3,800 pounds. Must be ordered per pallet, 48 coils per pallet. $44.00
2040-2250-AAR HD Woven Cord Strapping
2040-2250-AAR cord strapping for 1 1/4" cord, with 3,800 pounds break strength. Must be ordered by the pallet, 27 coils per pallet. $166.00
105WLMDO 1 1/4" White Woven Cord
4,000 lb. break strength 500'/coil, 4 coils/case, 61 lbs./case. Minimum quantity of 4. $89.00/each
CC105
1 1/4" x 770' x 3550 lb. break strength*, composite cord strap. Two coils/box, 36 lb. /coil, 8" x 7.5" core size, white finish.
Please note "system strength" is completely different then "break strength". Break strength is measured by an ASTM standard, taking a 6" piece of strapping and pulling it till failure. System strength is a European measure of testing the whole loop including buckle, the "system break strength" is often double the linear "break strength". To make it easier to compare to other strapping, we use the American standard of break strength. This is a close match to 1 1/4" steel strapping (x .029/.031"), and has been picked up very quickly to replace it in manual applications. It is similar to steel, even referred to as "synthetic steel strapping". The largest user is the lumber industry, but also distribution, steel, steel pipe, and expensive machinery. We like this product for its advances in operator safety. Uses only one tool and a buckle, so it is quick and simple to strap.
105WAAR Woven Cord Strapping AAR approved
Orange Woven Cord is the most common cord strap on the market (2040). It is commonly used to bundle everything from lumber loads to general packaging. Cord is a great steel strapping replacement. Does not cut like steel strapping, does not rust, and is preferred for safety! Easy to start; you just need buckles and a tensioner! Cord is the least expensive way to get started with non-metallic strapping. Product minimum of 4. $55.00/ Each
Gator Lash 8030 and 8031
More cost effective than ratchet straps. Cut-to-length, which eliminates waste. Strong as steel but weighs 75% less. Easily applied and can be pretensioned when necessary. Can be customized with your company name, logo, or message.
Width: 1 1/4"
Coil Length:835 ft
Coils/Box: 1
Coils/Pallet: 27/24
Break Strength: 5,100 lb.
Our Recommended Pneumatic Battery Powered Tools
Videos
Tool Repair: C11 Cord Tensioner
Related Products