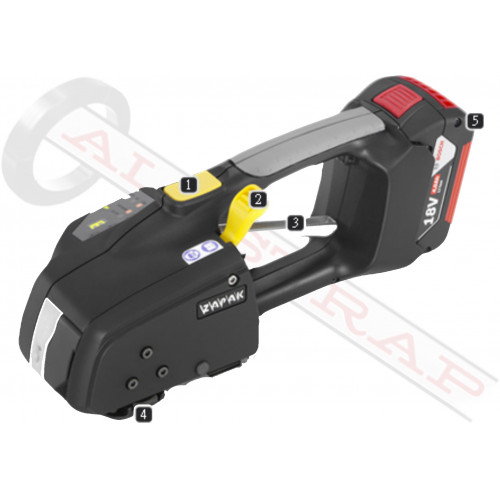 ZP93
The new Zapak ZP93 strapping tool replaces the Zapak ZP92 battery powered strapping tool. With the 18V High Capacity Bosch Lithium Ion Battery users can expect longer runtime and increased power. The unique thing about Zapak is that they produce their own patented brushless motors for all of their tools. This motor is the third generation brushless, and it has been integrated into the functionality of the BOSCH batteries. The ZP93 doesn't pull as much tension as other battery tools, but is a great tool for mid-duty loads, pulling Max. tension of up to 550 lb.
This new ZP93 tool is the lightest poly battery tool on the market, weighing in at 7.5 pounds including the battery. This tool also has self-adjustable strap guides so it can be used on up to 5/8" poly strapping. Wear parts are easily accessible for quick changes as needed. ZP93 Soft mode tension available for slow and low tension on strapping light or fragile objects.
This is another breakthrough from ZAPAK, we have adopted the newest "High Precision Micro Bearings" which was lately developed from Japan and now incorporated them to the Motor's Planetary gears set. After finishing intensive durability tests of minimum 150,000 cycles on 5 tools, it proves the implementation of micro bearings dramatically reduced friction and electricity current which further stabilizing gears and prevent grease from dry-out; it effectively increases service life of the tool. In fact, we we'll continue testing these tools until they each reach 250,000 cycles.
Videos
ZP93 Battery Strapping Tool
Related Products