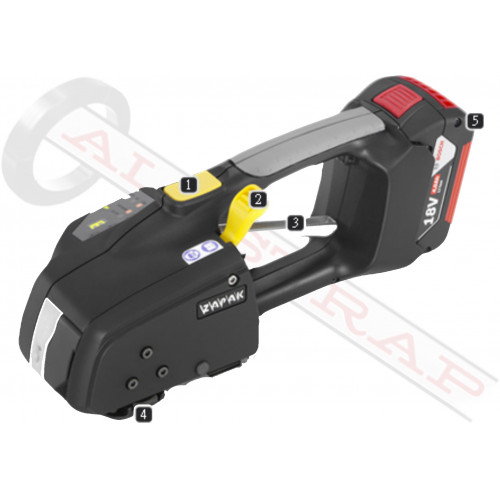 Zapak ZP97 Battery Combination Tool
The new Zapak ZP97 combo tool for poly strapping is finally here!
The ZP97 tool has the most efficient battery among its competitor tools. This tool is so easy to use, and it tensions, seals a friction-weld seal and cuts all at once. The ZP97 tool works with 5/8" to 3/4" poly banding, but its other model, Zapak ZP93 fits 3/8" to 5/8" banding. Call Allstrap for pricing and availability.
ZP97 BATTERY POWERED AUTOMATIC POLYESTER COMBINATION STRAPPING TOOL
Highest Battery Capacity 4.0 Ah (4000 mAh) in same class tools
The new Zapak ZP97 strapping tool replaces the Zapak ZP96 battery powered strapping tool. With the 18V High Capacity Bosch Lithium Ion Battery users can expect longer runtime and increased power. The ZP97 is a robust and reliable strapping tool for polyester strap sealing.
Latest technology
.Brushless motor-ZAPAK patented single motor design provides extremely long service life.
.Li-Ion battery- 4.0Ah rechargeable battery with smart Charge Level Indicator (CLI).
.Bosch 30 minutes charger
Powerful & Speedy
.Max. tension 880 lb. - ZP97 Heavy duty model.
.Patented strap grippers design contributes to high tension ability and strap quality tolerance.
.Single-handed operation performs automatic tensioning, friction welding and cutting efficiently.
Smart & Easy
.Pre-programmed touch panel with digital signal to suit different operation needs instinctively.
.Lightest model in same class of tools approx. 3.4kg (7.5 lb. incl. battery) relieves operation fatigue.
.Special tool retreating device ensures smooth and easy removal of tool.
.Unique rear-end roller design prevents scratches or worn out damages on strapping objects.
.User self-adjustable strap widths guiders and self-changeable wearing parts.
.Optional hanger reduces operation fatigue.
Safety
.Single-handed operation conforms to CE safety directive and meets RoHS requirements.
.Li-Ion battery complies with UN38.3 safety requirements.
The ZP97 has a 2 week lead time to ship (July 2019).
Videos
Zp97 Battery Strapping Tool