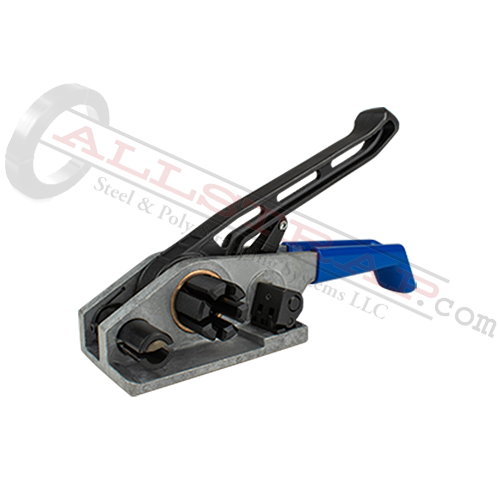 In Stock
---
Available Options
EP-1150
EP-1150 Premium Windlass Tensioner
This premium poly tensioner is ideal for flat loads, and can be used for 1/2"- 3/4" poly strapping. Check out the EP-1235 compatible sealer tool. The EP1150 is an easy to use tensioner, and includes a cutter on the front.
To operate:
Squeeze handle to lift leg and insert lower strap. Release handle to drop gripper onto the banding. Thread the top strap through the cutter, and through the windlass slot. Crank handle to pull tension. Use a separate seal and sealer to join the strap ends. Squeeze handle to cut strap, lift gripper, and then slide tool out to the right.
Premium Windlass Tensioner
For Flat Package Loads
For use on all Poly Strapping
For Strap widths 1/2" - 3/4"
Allstrap Opinion: The EP1150 is one of our two favorite poly tensioners. The one way bearing (instead of blocking pawl) makes this tool very quiet. This tool is made in the USA. Our other favorite is the ASC320.


Videos
PIM 1150 Tensioner and PIM 1235 Sealer
Related Products