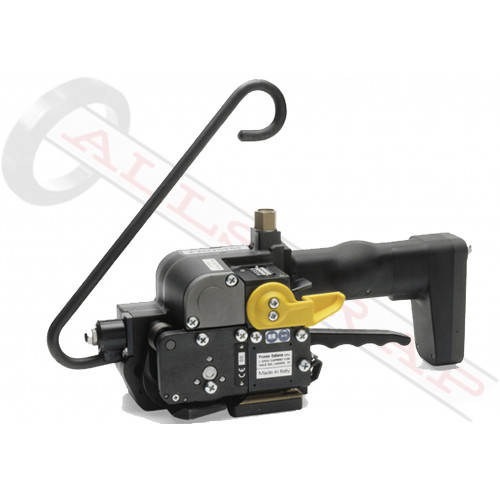 Discontinued
---
Available Options
Fromm P355
Fromm's P355 Pneumatic Polyester Strapping Tool
Replaced by the Fromm P357 (click to link)

The Fromm P355 has received a lot of positive feedback and is a fairly new Fromm release. Many companies are hesitant to make the jump from steel strapping to poly strapping, but this tool makes it so much easier to make the switch. It is estimated that by switching to poly strapping from steel strapping, and sealless seal from metal seals, businesses can expect a 50% savings on strapping costs. Even though this tool may look a little bulky, it is light weight and easy to operate. The P355 is a good tool for mid-duty applications, and coming from Fromm, it retains its popularity. The only complaint about this tool is its pricing. However, at Allstrap we can quote the lowest price on the market for the P355 tool.
Versatility:
Since the P355 has such a high retail price, there are other tools that Allstrap recommends that eliminate some of the cost and perform just the same. The battery tool that compliments the P-355 tool is the BXT2-19. This Signode tool accommodates 3/4"- 5/8" poly strapping and completes the tensioning, sealing and cutting processes. This tool is simple to use and is equipped with a safety sensor for optimum operator safety. This tool is also made by Orgapack in the OR-T 250 version. Both of these battery tools are significantly less money than the P355 sealless tool.
Tool Repair:
Need your Fromm P355 repaired? Send it to our tool repair department for a quick turnaround. Call Allstrap for an in-person demonstration. We keep Signode tools in stock, and have more experience with HD strapping than anyone in the country.
Specifications:
Strap Qualities: Polypropylene (PP) and Polyester (PET)
Strap Dimensions: 10.0 - 16.0 x 0.40 - 1.05 mm 3/8 -5/8 x .016 - .041"
Strap Tension: 90-470 pounds, adjustable
Sealing Type: Sealless
Weight: 4.8 kg / 10.5 lb.
Allstrap Opinion:
This is a good tool for mid duty applications, but there are other tools that don't have such a high sticker price. Please call Allstrap for details.
Videos
Fromm strapping tools for polyester banding
Related Products