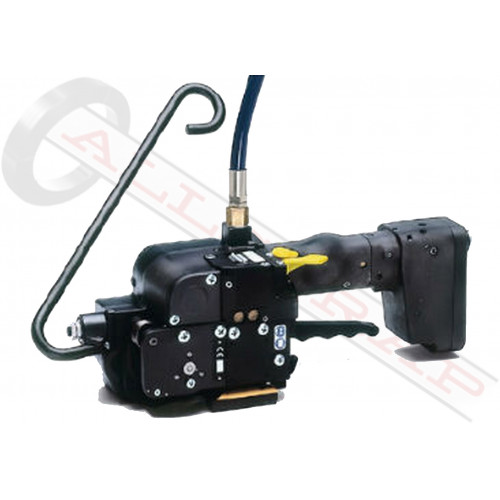 Discontinued
---
Available Options
Fromm P356
P356 Poly Strapping- Pneumatic Tool
Replaced by the Fromm P358 (click to link)

This versatile elegant tool is ideal for a wide variety of vertical and horizontal strapping positions, suitable for almost all applications in various industries. The P356 is only suitable for PET strapping up to 1.35 mm of thickness and can reach a very high strap tension of max. 3700 N. The Fromm-356 is robust, reliable and equipped with two inlets to connect the compressed air. It allows easy strap threading - both straps are inserted together. Sealing time, strap tension and tensioning speed are adjustable, guaranteeing a high sealing efficiency, resulting in perfectly secured packages with the P356 pneumatic tool. For the use on hard and rough package surfaces, a bottom base wearing plate is available as an option. Suspension of the tools is not necessarily needed thanks to their light weight.
Strap Qualities: Polyester (PET)
Strap Dimensions: 16.0 - 19.0 x 0.40 - 1.35 mm /5/8 - ¾ x .016 - .053"
Strap Tension: 800 - 3700 N (adjustable)
Sealing type: Sealless
Weight: 5.5 kg / 11.9 lb.
Allstrap Opinion: Good tool, it is more HD then the Columbia and other tools in its class.
Update 10-20 the Fromm P356 was replaced by the P358, but today there is no reason not to use a battery tool like the P329 or P329S. We still like the P358, but no longer suggest it.
Videos
Fromm strapping tools for polyester banding
Related Products