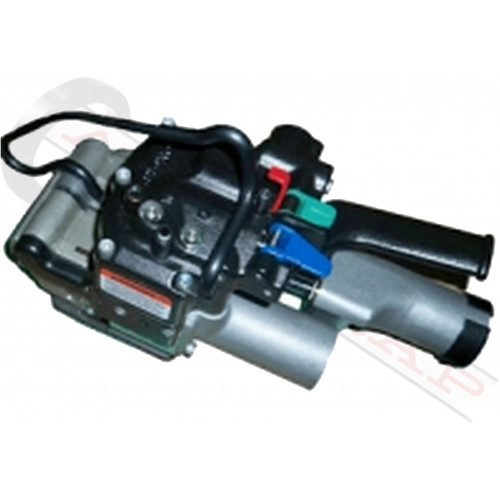 Usually Ships in 2-5 Days
Signode VT-32HD Pneumatic Combination Tool for 1 1/4" Plastic Strapping
Advantages: It has a small footprint. The operator can load strapping into vt-32 easily. The previous and similar VT tool line holds up fairly well. It is a light weight pneumatic tool weighing only 10.5 pounds.
Disadvantages: 950 lb. of tension sounds like a lot, but for a heavy band it is wimpy. The steel tools that end users will be switching from (while using 1 1/4" steel banding) pull 1,600-4,000 lbs. of tension. Will 950 lb. of tension pull the tail down in a steel service center for steel thicker than 1/4"? For non-compressible loads this tool should do fine. Time will tell for other heavy loads.
Allstrap Opinion: This tool pulls only 950 lb. of tension. It will be hard to get the polyester strapping in working elongation range with such a low number. You should look at the new battery tools for 1" and 1 1/4" PET the BXT2-25/32 or P331.
Updated Allstrap Opinion: We would not consider a pneumatic tool (including VT32) today. The battery tools are lighter, and tougher.

Videos
Related Products