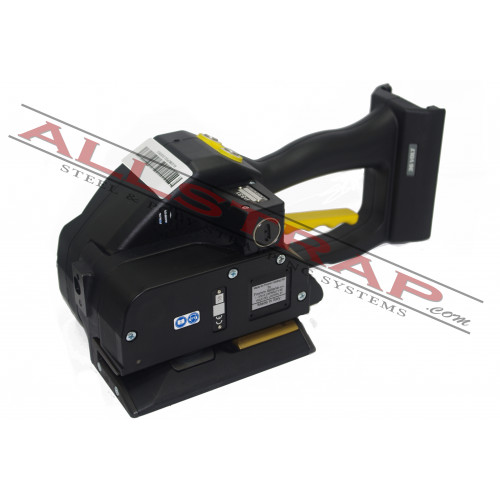 In Stock
---
Available Options
Fromm P331
Fromm P331 Battery Strapping Tool for Plastic Strapping
The newest Fromm battery strapping tool, the P331 is the best banding tool currently on the market. The P331 pulls up to 1,600 pounds of tension on either 3/4", 1', or 1.25" polyester banding. The Fromm P331 looks similar to the P330 tool but has a higher tension ability, and now includes 1 1/4" poly strapping. Not many battery tools for polyester banding offer the 1 1/4" option. The sealing lever has been removed on the P331 model, now it has two buttons that give the choice to run in auto mode. This is a durable tool with reliable applications, every time. This tool is a great addition to any shipping floor.
This bander is the Signode BXT3-25-32 (formerly Signode BXT2-32) only competitor. With all of the issues surfacing from the BXT2-32 tool, we assume this tool will soon overtake the HD poly strapping sector. Allstrap heavily prefers the P331 over the BXT2-32, due to its performance and durability. The Fromm P331 now uses 6 amp hour lithium batteries (50% longer lasting batteries so your tool lasts longer, cheaper batteries are available but we do not recommend them), which lets your banding tool run lots of cycles! Lower capacity are available, but the P331 likes the high capacity more!
Tool Repair:
Need your Fromm P331 repaired? Send it to our Tool Repair Department for a quick turnaround.
Strap Qualities:
> Strap: Polypropylene (PP) and Polyester (PET)
> Strap size: 3/4" to 1 1/4" X .016"- .053"
> Max Tension: Adjustable up to 1,600 lbs.
> Seal Type: Friction weld sealing
> Tension speed: 2.5 inches per second
> Weight: 14.1 pounds including 6.0 Ah Battery/ 6.4 Kg
Allstrap Opinion:
Fromm's P331 battery combination tension and weld tool is the best we have ever seen for plastic strapping! Sure, it is a bit heavy, but compared to other tools it basically holds up forever. It is also much lighter than the steel strapping tools! The P331 is the safest tool to use on HD PET strapping, thanks to the brains in the tool that guarantee the weld sets. This is the only battery powered strapping tool that locks the weld down, effectively eliminating the risk of an operator pulling the tool open before the weld sets. The lock down is a really really big deal!
Videos
1 1/4 x .050 PET Strapping Video
Fromm P331 Battery Strapping Tool P-331
Fromm p326 p327 p330 vs. p328 p329 p331
P331 Plastic Strapping Tool
Related Products