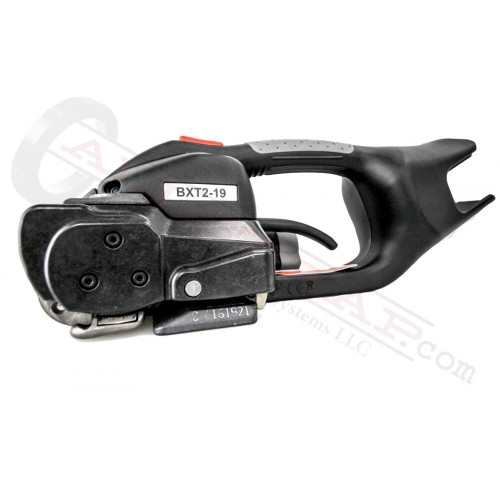 Price: $3,775.00
Specifications:
| | |
| --- | --- |
| Strap Qualities: | Polyester (PET) / Polypropylene (PP) |
| Strap Dimensions: | 5/8"-3/4" x .016 - .051" |
| Max. Tension: | 880 lbs |
| Sealing Type: | Friction-weld sealing |
| Weight: | 9.3 lbs. (including battery) |
Discontinued
---
Available Options
Signode BXT2-19
Signode's BXT2-19 Battery Powered Strapping Tool
The BXT2-19 has been replaced by the BXT3-19 (click to link), or try the P329 or P329S. The BXT2-19 bander is no longer available from Signode 8-2017.
The Signode BXT2-19 is the fastest tool on the market! It can run 5/8" or 3/4" PET polyester strapping and the guides can be changed to allow different width strapping. Automation pulls the strapping to the desired pre-set tension, then kicks right into weld and cut. After the weld, the tool counts down to zero. When it hits zero the tool beeps, the weld has cooled and the tool can be removed. Simple, easy, and effective operation. The BXT2-19 tool accommodates all load types from light duty to heavy duty, and the tensioning force can range anywhere between 88 pounds to 880 pounds.
Versatility
One thing that makes the BXT2-19 tool a stand out among competitors is the state of the art design. With a tight grip on the handle, the operator does not need to worry about the tool tipping forward or backward during the tensioning and sealing operations, it's well balanced and easy to hold with one hand. The BXT2 tools are ideal for tight or difficult strapping positions because of the small interface size, so rounds and coils can be easily banded. The tool can be used upside down, horizontal or vertical depending on where the friction weld seal needs to be placed. Get the smaller version, BXT3-16 for 1/2" poly or the larger version, BXT2-32 for 1 1/4" poly.
Tool Repair
Need your BXT2-19 repaired? Send it to our tool repair department for a quick turnaround. The BXT2-19 is generally available rebuilt, please call for rebuilt pricing.
Allstrap Opinion
We are big supporters of the BXT2-19 tools. This strapping tool is very nice to use. It is made by Orgapack in a similar version, OR-T 400, and the BXT2-19 is made for Signode.
Videos
BXT2 19 Signode Poly Strapping Battery Tool bxt2-19 video
Related Products