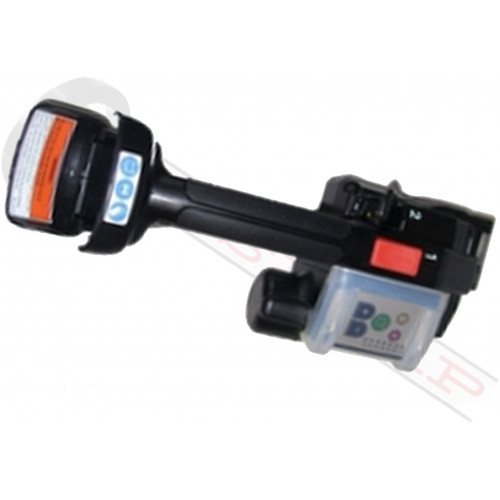 Signode BXT-19 Battery Powered Combination Tool
*The BXT-19 has been discontinued. The BXT-19 was replaced by the BXT2-19 , which was updated to the BXT3-19. We also like the Fromm P329 or P329S.

The Signode BXT-19 is intended for use with polyester and polypropylene strapping. With up to 200 strapping cycles between recharges, productivity is maximized. The friction weld seal joint guarantees an average 50% joint efficiency. Without the use of metal seals and buckles, cost is reduced on the business end because seals are not required with the BXT-19. This tool operates at three levels: Manual, semi-automatic, and automatic, making it easy to strap various packages and applications. With the 18 volt Lithium-Ion battery, this tool brings power and durability to all strapping applications, allowing the BXT-19 to pull almost 900 pounds of tension. Requires a one week lead time.
Strap Qualities: Polypropylene (PP) and Polyester (PET)
Strap Dimensions: 3/4"
Max. Tension: 500 lbs.
Sealing Type: Friction weld
Weight (including battery): 9.3 lb.
The BXT-19 is generally available rebuilt, please call for rebuilt pricing. Need your BXT-19 Repaired? Send it to our tool repair department for a quick turnaround.
Allstrap opinion:
This Signode tool was one of the first great battery powered tools for poly strapping. It pulled the banding tight, then welded and sealed all in one. The new tools now use lithium batteries, have one motor, and are a little tougher. The BXT-19 really started one of the great packaging upgrades of switching from steel strapping to poly strapping. Two decades later these tools are still running! The BXT was a great tool for its time!
Videos
BXT2 19 Signode Poly Strapping Battery Tool bxt2-19 video
Related Products