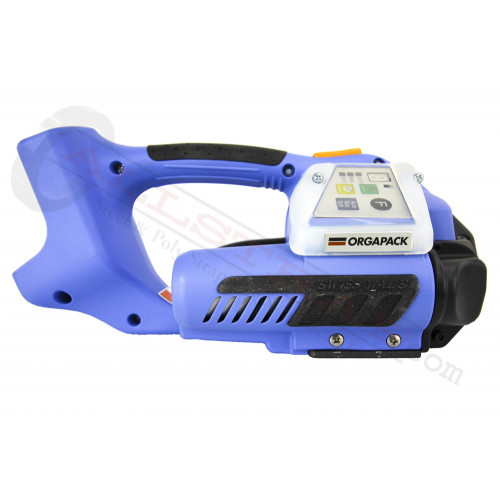 Price: $3,495.00
Specifications:
| | |
| --- | --- |
| Strap Qualities: | Polyester (PET) / Polypropylene (PP) |
| Strap Dimensions: | 5/8" - 3/4" x .031–.051" |
| Max. Tension: | 900 lbs. |
| Sealing Type: | Friction-weld seal |
| Weight: | 9.3 pounds (4.2 kg) (including battery) |
| Tensioning Speed: | 6.8 inches/ second |
| : | 6.8 inches/ second |
Discontinued
---
Available Options
Orgapack OR-T 400
Orgapack's OR-T 400 Battery Operated Strapping Tool
The ORT400 has been replaced by the ORT450 (click to link)

The ORT400 is great- It's easy to use, well balanced and tough. The ORT series are our highest recommended tools! The Orgapack OR-T 400 cam be controlled in different modes based on what's being packaged, making it the most versatile tool in the battery series. With different features like the suspension bow and protective pieces, the OR-T 400 can be used to strap bricks, blocks and used in line work. Linemen love this tool because the battery life of up to 400 straps per charge makes work more efficient and moving quickly.
This tool includes 2 batteries (18 volt) and rapid charger.

Since the OR-T 400 is a combination tool, it simplifies the strapping process more than any other tool out there. Compared to heavy manual tools, this tool is light weight and does the tensioning, sealing and cutting in one machine! The ORT-400 tool has a service friendly construction, so any wear and tear can be easily fixed. For applications requiring smaller strapping, the OR-T400 has a little brother, the Orgapack OR-T 250. The 250 tool accepts poly strapping sizes 1/2" to 5/8".
Tool Repair:
All wear parts and other parts for the OR-T 400 can be ordered below in the "Schematics" tab! Common OR-T 400 wear parts include:
1821.047.022 Tension Wheel
1821.209.022 Knife
1821.048.017 Tooth Plate
2187.003 Battery 18V/2.6 Li- Ion
Need your OR-T 400 Repaired? Send it to our tool repair department for a quick turnaround. The Orgapack OR-T 400 is generally available rebuilt, please call for rebuilt pricing.
Videos
orgapack ort400 or-t400 strapping tool
Orgapack Setting Mode of Operation
Related Products