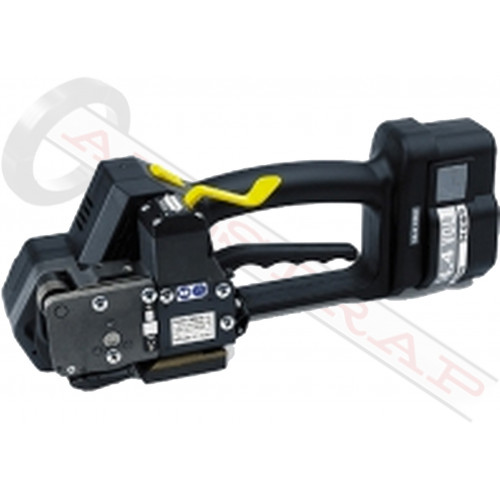 Fromm P324 Battery Strapping Tool for Polyester Banding
Update: The P324 has been replaced by the Fromm P328.
The Fromm P324 was introduced to the US in 2008. This is the first Fromm tool to have one motor to run both tension and seal functions, which makes the tool a little lighter. Thanks to the battery operation of the P324, the working range is extended independently of any power supply. This tool is used with light and heavy duty polyester strapping up to 0.053" of thickness with smooth or embossed surfaces. Tensioning, sealing and cutting the strap are accomplished by pushing the respective, ergonomically arranged press button or lever. Interlocking of the sealing lever during the sealing and cut-off cycle enables single hand operation and substantial time and money savings. Both straps are inserted together for easy strap threading. Strap tensioning and sealing times are individually adjustable, resulting in perfectly secured packages. A high seal efficiency is also guaranteed with the P324 and P325. The Fromm P324 is an ideal tool for a broad variety of strapping applications in all industrial sectors.
The Fromm P324 is the updated version of the Fromm P322. This tool was later updated to the Fromm P326. It can be used on PP and PET strapping.
Specifications:
Strap Qualities: Polypropylene (PP) and Polyester (PET)
Strap Dimensions: 1/2", 5/8" x .016" - .042"
Strap Tension: 67-540 pounds
Sealing Type: Sealless weld
Power Supply: Battery 14.4 Volt NiCd or NiMH
Biggest Competitor(s): OR-T250, ZP93
Weight (including battery): 9.92 pounds
Allstrap Opinion April 2022: The P324 is our least favorite generation of Fromm combination tools. The P324 uses only one brushed motor, which means you have to replace it frequently. Plus, it is before lithium batteries, which means you also had to replace batteries all the time. The current P328 is miles ahead of this P324 tool.
Related Products