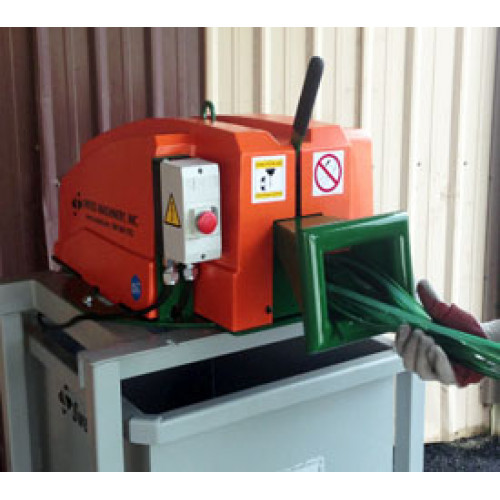 Model 450 DDX Scrap Chopper
Model 450DDX Scrap Chopper
Sweed
In Stock
---
Available Options
Model 450DDX Scrap Chopper
Model 450 DDX Scrap Chopper
The Model 450 DDX is a Dual Drive scrap chopper with lots of power.The dual feed rolls allow quicker intake and can handle large amounts of poly banding and 3/4" steel banding. The 450 DDX machine works great for in-line placement processing slitter-line trim and tube scarf strap. It has a 1HP motor and additional mass on the fly well which allows it to accommodate large loads of scrap. The 450 DDX can sit on a stand which can be easily moved around the workroom floor for easy maintenance.
The following steel strap sizes work with the 450DDX Scrap Chopper
3/8" x .078" steel band
1/2" x .0625" steel band
3/4" x .046" steel band
5/16" x .031" steel band
1" x .031" steel band
The 450 band chopper is a heavy duty version of the model 300 (click to link).
All sizes of plastic/PET strap. Call Allstrap for detailed information about the Model 450DDX Scrap Chopper. *Allow up to one week of shipping time.
Videos
Model 450 DDX Scrap Chopper