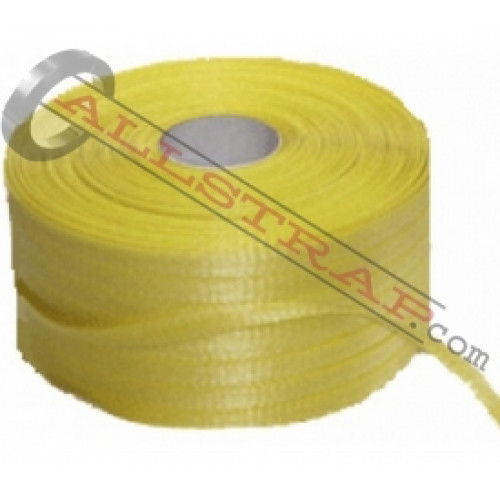 .75 inch Cord Strapping
.75 inch Cord Strapping
In Stock
---
Available Options
.75 inch Cord Strapping
.75 inch Cord Strapping
65WLMD Orange Woven Cord Strapping. 3/4" (.75 Inch) wide x 2,400 lb. x 1,650' long coils. Two coils/case, 43 lb. per case. Orange Woven Cord is the most common cord strap on the market (2070). It is commonly used to bundle everything from lumber loads to general packaging. Cord is a great steel strapping replacement. Does not cut like steel strapping, does not rust, and is preferred for safety!
---
3/4" x 2150' (new longer coils) 1350 lbs. break strength*, two coils/box, 27 lbs./coil, 60 coils/skid, composite cord strap. Composite is the newest type of cord strapping. It is coextruded with polyester fibers encased in a polymer coating. The coating makes it feel more like steel strapping, it is rigid compared to the other types of cord (woven, and bonded). Minimum Quantity of 2 Easy to start; you just need buckles and a tensioner! Cord is the least expensive way to get started with non-metallic strapping. 85.00/ each. This product has a minimum quantity of 2.
CC65
*Please note "system strength" is completely different then "break strength". Break strength is measured by an ASTM standard, taking a 6" piece of strapping and pulling it till failure. System strength is a European measure of testing the whole loop including buckle, the "system break strength" is often double the linear "break strength". To make it easier to compare to other strapping, we use the American standard of break strength. This strapping is nice to use if it has to be threaded through a tight space, or through a long distance. We found mixed field results. The people who hated it said compared to other cord, composite is hard to thread the buckle, and hard to pull through the buckle (particularly in the cold). The people who loved it touted it ability to loop easily around loads. $95.50/each
60B 3/4" 900 lbs. 2,100' 4 coils/case, 66 lbs./case, White Bonded Cord
$66.00/ each. This product has a minimum quantity of 4
60W 3/4" 900 lbs. 2,100' 4 coils/case, 66 lbs./case White Woven Cord. $69.00. This product has a minimum quantity of 4.
75WLMD 3/4 Inch White Woven Cord- Cord Strapping Tool. The 75WLMD pulls 2,600 lbs. The break strength is 1,640 lbs. There are 4 coils per case, and each case weighs 75 lbs. $99.00 /each. Minimum Quantity of 2.