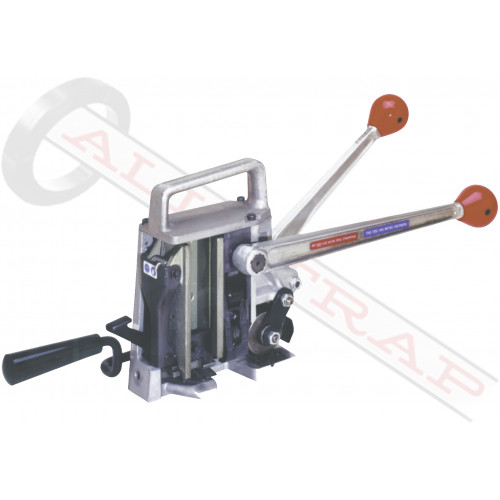 Usually Ships in 2-5 Days
Signode AST Manual Combination Poly Tool DISCONTINUED
The AST is Signode's manual combination poly tool with magazine seals. The AST uses a feed wheel with unlimited uptake to pull banding tight. (Part number 422950) AST weights 11.5 lb. This tool is used with 1/2" PET strapping.
Allstrap Opinion: This is a tough tool. Lumber yards used to use the steel version of this tool (the AM), and it held up in the toughest conditions. This tool is mobile, it takes a magazine clip with seals. Some other manual versions make you load a seal in every time you strap. We like this tool if a powered tool isn't for you. But... for the price you really should consider a battery powered BXT3-16 or P328
From Signode: The AST manual seal-feed combination tool uses Contrax, Dynax and Tenax strapping.
AST Manual Combination Tool for Plastic Strapping
Easy to operate
• Tensioning and sealing functions require minimal effort
• Reduces operator fatigue
• Seals load in magazines, eliminating reloading after each cycle
Reliable
• Produces a crimp joint for maximum joint strength
Durable
All metal and alloy parts provide long-lasting, low-maintenance operation.
Specifications
Strapping: For use on 1/2" (12 mm) Dymax, Contrax and Tenax plastic strapping.

Tension: Up to 250 lbs. (1112 N)

Joint Type: Crimp

Seal: 50 ASD

Weight: 11 lbs. (5 kg)
Lead time may vary for this Signode tool, please call for details.
Allstrap Opinion: We do not understand why anyone would use a manual tool that is the same price as a battery tool... Please, please do not use this tool, upgrade to the current century with a powered tool that pulls tight, welds, and cuts all in one.

Related Products