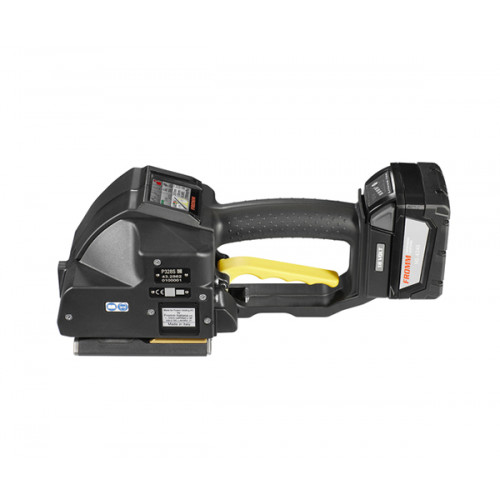 Usually Ships in 2-5 Days
Fromm P328S Battery Powered Strapping Tool


Update 8-22 One tool left, and then we expect chip problems to delay till Q2/3 2023.
The new P328S banding tool shares most of the mechanical parts with the reliable
standard P328
. The "S" version has a touchscreen instead of buttons. The screen allows the tool to run in manual or automatic. The manual version has a spot on the screen that looks like the tension button, and a second that looks like the weld button. Manual mode will stop tensioning when the button is released. The big advantage is now the tool can run on auto mode. Hitting the screen one time does everything, no second button push required. The Fromm P328S can run 1/2" or 5/8" (but is set for just 1 width and thickness).


Advantages
---
Strap database management, updating and service readout with Wireless Technology (option)
The Smart, all-in-one and easy to operate slanted color touch screen
3-in-1 tool, easy selecting manual, semi-automatic and automatic operation
One-handed operation to set & lock the tension force, speed and sealing time
Incorporated maintenance info
Very high tension force with adjustable tension speed
Tension force and sealing time adjustable
The latest touch screen technology incorporated with wireless Bluetooth capability built into the most advanced FROMM Strapping tool produced to date. Easy selection between manual, semi-automatic and automatic mode with the touch of a button. These strapping tools are equipped with the modern Lithium-Ion battery technology and a reinforced 18 Volt brush-less motor.


Accessories
P32.0223 Standard suspension bracket (pivoted)

P32.0231 Standard Suspension bracket (fixed)
P32.0226 Wearing Plate (metal) for rough and hard surfaces
P32.0227 Wearing plate (metal) to protect the complete bottom side of tool
P32.0241 Protection plate (plastic) to protect packages with a sensitive surface
P32.0228 Motor cooling fan
Tool Repair:
Need your P328S

Tool Repaired?

Send it to our tool repair department for a quick turnaround. You can't afford to have slow tool repair, and we average just 1 day on the P328S!
Videos
How to operate the Fromm P328 strapping tool
Fromm P328 vs P328S tools compared
Related Products