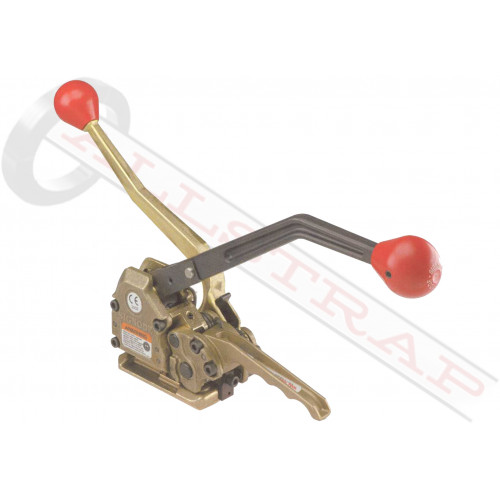 Usually Ships in 2-5 Days
Signode SCM-12 Combination Strapping Tool for Steel Strapping
The Signode SCM tools are for regular duty or high tensile banding, and can be set for 1/2"-3/4" x .015"-.025". Signode's SCM tools are a fast, easy and effective way to strap. The SCM-12, SCM-58 and SCM-34 combines a tensioner, sealer, and cutter for an all purpose strapping tool. It reduces operator labor and the cost of seals.
The SCM tool is the same for each width strap, but the guides are different. The tool comes set for just one width. The SCM58 and SCM34 can fairly easily be swapped from one width to another. The SCM12 takes different guides, and die/punch, which makes it hard to convert to or from 1/2".
Allstrap Opinion: Rumor has it that the SCM line are copies of the ASC and ASCHT. The Signode SCM works well but has a much higher initial cost and higher parts cost. We would recommend the ASC tools over the SCM tools. Look for the new battery powered sealless tools like the SLP and Yukon.
Videos
Signode SCM
Signode SLB battery SLP pneumatic SMC sealless combo strapping tool
Related Products