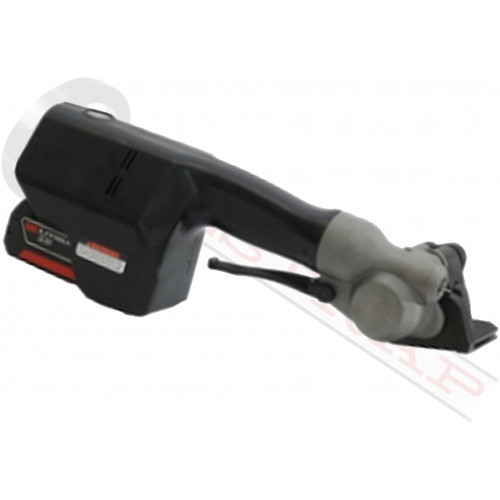 MIP GRIP-114 Tensioner
The MIP Grip is no longer available. It was made for MIP for only a short time. It was replaced by the Signode Grip Pack 114 Tensioner, or by the Golden Bear STB.
MIP recently introduced the MIP Grip 114T tool suitable for 3/4" - 1 1/4" steel strapping. This tool pulls tension quickly and efficiently, completing the process with one single pull of a trigger. It's lightweight and easily portable for wherever your strapping needs take you. It's known for being one of the easiest battery-powered tools to use of its kind while using the durable 18V Bosch battery. The duck bill nose feature of this tool is great for pushing seals and pulling tensions.
Versatility:
This tool provides many advantages while going above and beyond it's pneumatic and manual tools. It eliminates the need for costly heavy airlines, speeding up productivity in the workplace. It pulls up to 1,500 pounds of tension and only weighs 8.5 pounds! The battery can be used up to 120 cycles per charge and recharges to 80% in just a few minutes.
Order Parts & Tool Repair:
Need your MIP Grip-114T repaired? Send it to our tool repair department for a quick turnaround. Call Allstrap for an in-person demonstration. We keep Signode tools in stock, and have more experience with HD strapping than anyone in the country. We have factory-trained technicians ready to repair your MIP Grip-114 Tensioner!
Specifications:
Strap Qualities: Magnus or Apex Plus
Strap Dimensions: 3/4" to 1-1/4" (0.025" to 0.031" thickness)
Operation: 18 V Bosch battery
Sealing: Sold separately- Signode GripPack 114 Sealer

Weight: 8.5 pounds
Allstrap Opinion:
This tool is great for mid-to-heavy-duty strapping applications and extremely durable! The latest technology and features provided with this tool requires minimal maintenance, which means minimal tool repair. The connivence this tool provides will never have you dealing with heavy manual tools again! But now the Grip tensioner for MIP is DISCONTINUED... Our favorite battery tensioner on the market is brushless, and tough, try the STB to replace the MIP Grip-114T
Videos
MIP Grip-114T Midwest Industrial