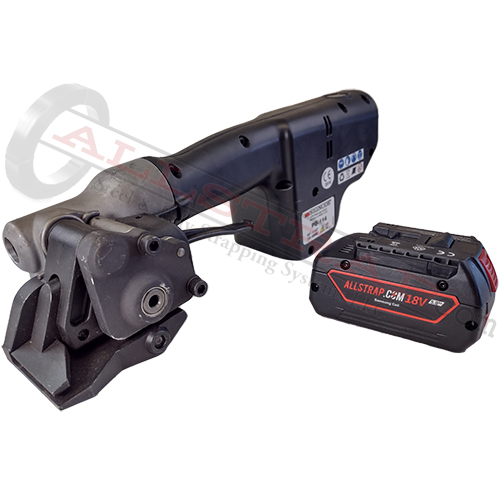 GripPack 114 Tensioner
Signode GripPack 114 Tensioner
Signode
Usually Ships in 2-5 Days
---
Available Options
Signode GripPack 114 Tensioner
Signode's PB-114 GripPack 114 Tensioner
Update 12-23-22, we do not expect to have this tool in stock for 6-12 months. Our 2020 orders are still not here, and everyone in the world is having the same problem. Check out the combo tool as a potential alternative https://www.allstrap.com/kodiak

Signode's new GripPack PB 1 1/4" tensioner tool is battery powered and replaces the pneumatic PN2-114. The Signode GripPack tensioner runs off of an 18 volt Bosch battery. The battery tensioner is a pusher style, and uses its duckbill nose to push seals and pull tension. This PB-114 GripPack tool pairs with the Grip Pack 114 Sealer. The GripPack tensioner runs 3/4" steel strap up to 1 1/4" steel strap with no adjustment.
Versatility:
There are no tools more convenient than the battery powered tools. This GripPack Tensioner totally eliminates the cost of air lines and supplies similar tension as its pneumatic competitors. Not only do battery tools save cost, they offer the greatest mobility of any other tools. Even when compared to manual tools, the weight of battery tools is less so they can be easily transported around the loading dock and work room. Many people are surprised to hear the new Signode GripPack 114 Tensioner can pull 1,500 pounds of tension. The Lithium-Ion batteries allow great tension to be pulled with just one squeeze of the handle. One charge of the battery can complete up to 120 strapping cycles. The GripPack battery and charger are sold separately.
Specifications:
Strap Qualities: Magnus or Apex Plus
Strap Dimensions: 1 1/4"x 0.019" to .044"
Tension: adjustable from 800 lbs to 1500 lbs
Operation: 18 V Lithium-ion battery 4 amp hour
Seal: 114 P push seal
Part Numbers: 800441 (tensioner only), 800466 (GripPack Kit 110V -standard), 800467 (GripPack Kit 220 volt, contact Allstrap by phone or email for this version)
Weight: 8.6 pounds including battery
Motor: Brushed

Cycles per battery: 120+
Tool Dimensions: 15" x 6" x 6"
Order Parts & Tool Repair:
Update: Signode GripPack Steel Strapping Tensioner parts can now be easily ordered online through Allstrap! Click the "Order Parts" tab below, browse the GripPack! Tensioner schematic to find the part you need, and add it to your cart! All parts for the GripPack tensioner, and the wear parts, can be ordered online in the "Order Parts" tab below. The GripPack tensioner wearing parts include:

Feedwheel 423398
Pivot pin 800119
Foot spring 800415
Call Allstrap for an in-person demonstration. We keep Signode tools in stock, and have more experience with HD strapping than anyone in the country.
There is a new combination battery powered strapping tool that pulls tension, seals, and cuts. Check out this combo tool: Golden Bear's Kodiak for steel strapping.
Allstrap Opinion:
Signode's PB-114 GripPack tensioner is a welcome addition to steel strapping tools! Now steel service centers can band easily on the turntable, in containers and railroad cars. This tool can be used anywhere! Thanks to the lithium battery, the days of manual and pneumatic steel strapping tools are over.
Update 4-22: This tool is not nearly as tough as the PN2-114/A452, but it does offer mobility. There is another tool that performs better and is tougher, try the STB tensioner (click to link). If you need mobility, there are not many choices and the original tensioner is the Signode PB-114.
Videos
Grip Pack 114 Signode Battery Steel Strapping Sealer
Grip Pack 114 tensioner vs. Signode pn2-114 and RCNS2-114
How To: Signode's Grippack 114 Tensioner & Grippack 114 Sealer
Signode Grippack Family: 114 Tensioner & 114 Sealer
Signode Tools Comparison
Related Products