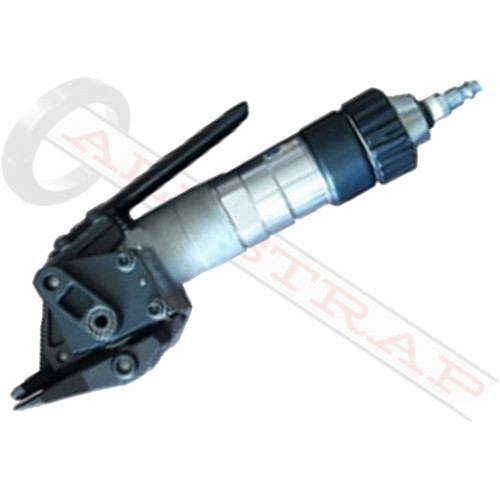 Signode PN2-114 Pneumatic Feedwheel Tensioner
The PN2-114 is a pneumatic feedwheel push type tensioner for steel strapping to secure round or irregular shaped packages. In warehouses and shops where the operator is on their feet and on-the-go, this Signode PN2114 tool can be conveniently transported from one place to another. The Signode PN2-114 is generally used with a pneumatic sealer. The PN2-114 is light enough it does not have to be counter balanced making it mobile. Since it is not a combination tool, a pneumatic sealer must to be used to apply the seal. To eliminate the use of two tools to complete the strapping process, we recommend using a combination tool which tensions, seals, and cuts all in one tool. The best combination tool for 3/4"- 1 1/4" banding is the Signode PRHR-114 combination steel strapping tool.
While pneumatic tools are efficient and fast in application, one downfall of the entire pneumatic system is the fact that the air lines are constantly dragging on the floor of the strapping area. In order to have free flowing movement for quicker strapping and a safer work environment, battery powered sealers and tensioners can also provide the same strapping result. The battery form of the PN2-114 is the Signode Grip Pack 114 Tensioner, and there is the Grip Pack 114 Sealer that goes with the tensioner.
Versatility:
The switch to pneumatic combination tools has been a growing trend in the strapping industry. Industry professionals approve the PN2-114 tool and consider it one of the best pneumatic tensioners. Like the PN2-114, all pneumatic tensioners have an unlimited strap take-up and ensure optimum safety with a quick disconnect plug. The pneumatic combo tool that can replace the PN2-114 is the Signode SCMH-34. Many companies are seeing the benefit of one tool that operates the tensioning, strapping, and cutting with one press of a button in just a matter of seconds!
Order Parts & Tool Repair:
Need your PN2-114 repaired? Send it to our tool repair department for a quick turnaround. Call Allstrap for an in-person demonstration. We keep Signode tools in stock, and have more experience with HD strapping than anyone in the country. The PN2-114 is generally available rebuilt, please call for pricing.
Specifications:
Strap Qualities: High tensile (Ultraflex)
Strap Dimensions: 19 - 32 x 0.63 – 1.27 mm / .75" - 1.25" Wide x .020" - .044" Thick
Max. Tension: Up to 1,600 lbs. (7117 N)
Sealing Type: Metal push/closed seals 1.25 Inch Push Seal
Sealing: with separate sealer A461
Weight: 8.1 lb. (3.7 kg)
Allstrap Opinion:
We recommend this tool, as it has set the standard for pneumatic push type tensioners. The other top tensioning tool is the A452 by Fromm.
Videos
Grip Pack 114 tensioner vs. Signode pn2-114 and RCNS2-114
PN2-114 How to Adjust: Feedwheel
Signode PN2 & RCNS
Related Products