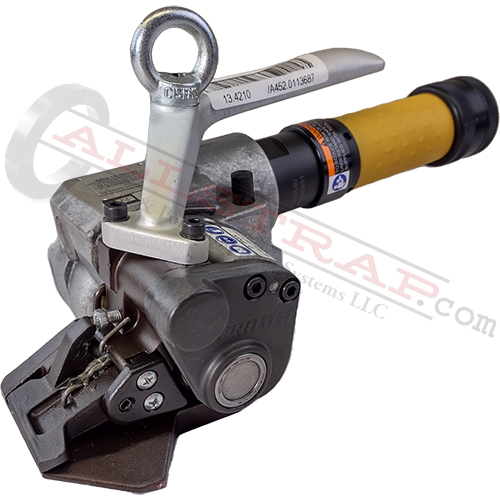 Price: $2,695.00
Specifications:
| | |
| --- | --- |
| Strap: | Uniflex and Ultraflex max. 1100 N/mm2 / 160'000 psi |
| Strap Size: | 19.0 – 32.0 mm / 3/4 – 1 1/4" |
| Strap Thickness: | 0.63 – 1.27 mm / .025 – .050" |
| Max Tension: | Adjustable up to 1,900 lbs. |
| Seal Type: | Pusher |
| Tension Speed: | 2.5 inches per second |
| Weight: | 4.35 kg / 9.6 lbs |
Fromm A452 Pneumatic Steel Strapping Pusher
The A452 pneumatic push-type tensioner for 3/4" to 1 1/4" steel strapping is best known for its high strap tension force of 1,910 pounds (8500 N). This extremely rugged, fast and lightweight tool is suitable for both mobile and stationary applications. Since the A452 tool has an angled duckbill nose it requires push/closed seals. The seals are threaded onto the strap and the tool physically pushes the seal as it pulls the strap applying the tension force. The Fromm A452 pneumatic tensioner is a quick tool and consistent since it is air powered. The Fromm A452 can run on 3/4" to 1 1/4" without an adjustment. After the band is pulled tight, a separate sealer is required to complete the application. Fromm's pneumatic A461 sealer, a manual sealer, or a grip pack 114 battery sealer all do the trick.
Other Options:
1. Combo tools. To make things easier and eliminate the use of multiple tools, consider making the switch to a combination tool to perform the tensioning, sealing and cutting functions all in one tool. The Fromm A483 and Signode PRHR-114 tools are our top suggestions.
2. Switch to 1 1/4" plastic strapping with the Fromm P331.
3. Use battery powered tools like the GripPack 114, or Yukon tensioner.
4. Manual tensioner like the MIP1620.
Order Parts & Tool Repair:
All parts for the A452, and the wear parts, can be ordered online in the "Order Parts" tab below. The A452 wearing parts include the feed wheel A45.1320. The Fromm A452 is generally available rebuilt. Call for pricing. Need your A452 repaired? Send it to our tool repair department for a quick turnaround.
Allstrap Opinion:
We like the A452 if you're going to stay with a pneumatic. But many people can switch to 1 1/4" plastic strapping which is much easier to use, and safer. You should also consider the GripPack 114 Tensioner and GripPack 114 Sealer that are battery operated but provide the same seal efficiency and load security.

Videos
Related Products