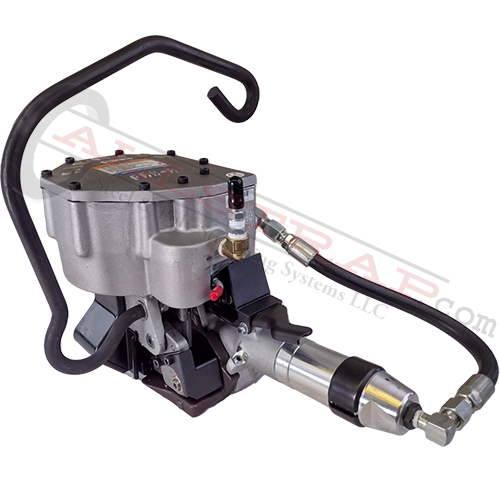 Usually Ships in 2-5 Days
Signode PRHR-114 Pneumatic Push Style Combination Tool
The Signode PRHR-114 pneumatic push-type combination tool is used with push-type seals on irregular-shaped packages. Air power assists to tension, seal, and cut the strapping. Signode PRHR-114 is a standard in the steel service industry. We suggest counter balancing the PRHR-114 on a wire, or with a tool arm because of the weight. Some of the reasons why the Signode PRHR-114 outperforms its competition is because it's easy to use and maintenance is low compared to competitor tools. With just a few wear parts, the lifespan of the tool surpasses other combo tools. With the ability to pull 1,400 pounds of tension it is one of the strongest pneumatic tools in the combination sector. For more mobile 1 1/4" steel strapping tools, use a separate PN2-114 tensioner and RCNS2-114 sealer. This PRHR-114 steel strapping tool can also be used on ¾" steel strapping with the version, PRHR-34. Signode PRHR-114 parts can now be easily ordered online through Allstrap! Click the "Order Parts" tab below, browse the PRHR-114 schematic to find the part you need, and add it to your cart!
Versatility:
The PRHR114 tool is also perfect to strap slit coils and bundles. The feedwheel can be replaced very quickly compared to other tools. The Signode PRHR-114 is popular because with just one button, it seals, tensions and cuts. All three operations can be completed in a matter of seconds. Because of their longer lifespan, the pneumatic tools and PRHR-114 are cost effective compared to manual tools. Pneumatic tools like the PRHR 114 offer the strongest tensioning available in banding tools.
Order Parts & Tool Repair:
All wear parts and other parts for the PRHR-114 can be ordered below in the "Order Parts" tab! Common PRHR-114 wear parts include:
Filter Assembly 024631
Ball Bearing 024633
Back End Plate 024653
Rotor 423423
Vane 024651
Front End Plate 423794
Idler Carrier Assembly 423403
Idler 423060
The PRHR-114 is generally available rebuilt, please call for rebuilt pricing. Need your PRHR-114 Repaired? Send it to our tool repair department for a quick turnaround. Call Allstrap for an in-person demonstration. We keep Signode tools in stock, and have more experience with HD strapping than anyone in the country.
Specifications:
Strap Type: Magnus
Strap Width: 1 1/4 Inches
Strap Thickness: 0.025"- 0.035"
Seal Name: 1.25 Inch Push Seal
Joint Type: Notch
Weight: 34 pounds
Allstrap Opinion:
The PRHR-114 is a great tool. We can upgrade your PRH2-114 to the new style fairly easily, or try the 3/4" Signode PRHR-34. Most pneumatic tools have now been switched over to steel strapping battery tools (click to link), or to 1 1/4" poly strapping. We suggest looking at them! Have you seen the generic version of this tool, click to link.
Updated Allstrap Opinion (April 2022): Pneumatic tools are a dying breed. With the new battery powered BPT-H32 and Kodiak taking over, the PRHR-114 will be heading toward extinction.

Videos
Signode PRHR 114 Steel Strapping Combo Tool Video
Pneumatic Combo Tool Video: PRHR-114 & PRHR-34
PRHR-114 Signode Combination Tool Video
Related Products