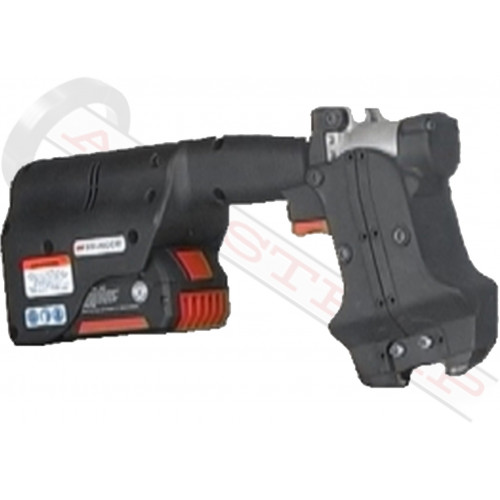 GripPack 114 DN Sealer
Signode GripPack 114 DN Sealer
Signode
Signode RCBD-1431 Grippack 114 Steel Strapping Sealer
This is the first battery powered steel strap sealer for 1 1/4" high tensile strapping. The Signode RCBD1431 GripPack 114 runs on lithium power and can place 200-300 seals per battery charge. The mechanics of a traditional strapping tool are the same with the GripPack 114, but it is much simpler. The tool is placed over the seal, and when the trigger is pulled it quickly and smoothly seals the joint. The GripPack will not misfire due to a new sensor that detects steel strapping. It is fast, but not quite as fast as a pneumatic RCNS2-114 sealer. It is light weight and easy to transport.
Versatility:
Not only is the tool lightweight, but the sealer is designed ergonomically to reduce operator fatigue. It can be easily transported around the work room or loading dock and doesn't get in the way like the old pneumatic air lines would. Also in comparison to pneumatic tools, the battery tools have much less inconsistency than their pneumatic competitors which can ensure a secure seal each application. With just as much power and strength as pneumatic tools, the battery GripPack 114 Sealer is reliable and a staple in the steel strapping industry as well as the railroad industry. Signode tools are widely used and appreciated throughout the world for their durability and really simple operation. They are also well known for their ergonomically pleasing designs and light weight tools. The GripPack 114 Sealer is no exception, and is having a successful debut as the first and only battery powered steel strapping tool on the market. There is a separate GripPack 114 Tensioner so the two GripPack tools can carry out the entire strapping function.
Order Parts & Tool Repair:
Update: RCBD-1431 GripPack 114 Sealer parts can now be easily ordered online through Allstrap! Click the "Order Parts" tab below, browse the GripPack Sealer schematic to find the part you need, and add it to your cart. All parts for the GripPack 114 Sealer, and the wear parts, can be ordered online in the "Order Parts" tab below. The GripPack Sealer 114 wearing parts include:

Notcher 800266
Jaw 800245
Lower jaw pin 800267
Upper jaw pin 800244
Upper jaw pin 800285
Rubber boot 800265
Call Allstrap for an in-person demonstration. We keep Signode tools in stock, and have more experience with HD strapping than anyone in the country.
Specifications:
Strap Qualities: Magnus or Apex Plus
Strap Dimensions: 1 1/4"x 0.025" to 0.031" / 32 mm x 0.64 mm to 0.79 mm
Operation: 18 V Lithium-ion battery
Sealing: Single reverse notch joint with seal type 114 P
Weight: 7.0 pounds.
Allstrap Opinion:
Signode's Grip Pack is a welcome addition to steel strapping tools! Now, steel service centers can band easily on the lazy suzy turn table, and in containers and railroad cars. This tool can be used anywhere. Thanks to the cutting edge lithium battery, the days of manual and pneumatic steel strapping tools are numbered.
Update 8-18: We are having way too many problems with Grip Pack tools. Signode said the problem is fixed with the new batch, but we have tools dead on arrival, and dead after a week. If you don't care that Signode does not accept the warranty claim for a month or two, then go right ahead and buy it. Otherwise, lets wait a to see if the mechanical and circuit board problems get figured out on the Grip Pack tensioners, sealers, and cutters.
Videos
Grip Pack 114 Signode Battery Steel Strapping Sealer
Grip Pack 114 tensioner vs. Signode pn2-114 and RCNS2-114
How To: Signode's Grippack 114 Tensioner & Grippack 114 Sealer
Signode Grippack Family: 114 Tensioner & 114 Sealer
Signode Tools Comparison
Related Products