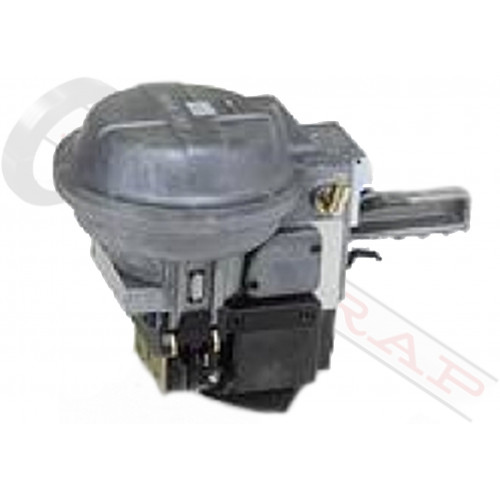 In Stock
---
Available Options
Fromm A483
Fromm A483 Pneumatic Steel Strapping Pusher
The A483 Fromm tool is a pneumatic combination tool that tensions and seals steel strapping. Fromm's A483 is a pusher style for 1 1/4" steel banding. This tool can withstand continuous operation very effectively. This tool combines two separate tools, the A452 feed wheel tensioner, and the A461 sealer. We suggest hanging the tool on a counter balance since it is about 40 pounds.The lightest combo tool for 1/2", 5/8", and 3/4" light duty strapping is the Fromm A480. Fromm's A482 tool is for 3/4" steel HD steel strapping. A483 parts can now be easily ordered online through Allstrap! Click the "Order Parts" tab below, browse the A483 schematic to find the part you need, and add it to your cart.
Versatility:
The banding feeds into the Fromm A483 through the automatic feedwheel, making it much easier to load steel strap. The Fromm A483 is generally used for strapping steel coils, tubes, and rods in all positions, it can be fitted with four different suspension brackets to offset the weight of the tool. For applications where the work requires continuous strapping, the Fromm A483 provides high reliability.
Order Parts & Tool Repair:
All parts, including the most common wear parts for the A483 can be ordered online in the "Order Parts" tab below. The wear parts for the A483 include:
Feedwheel A38.2310
Cutter Jack A48.2120
Cutting Jaw A48.3113
Notching Knife A48.3116
Slide Jaw A48.3209
Need your A483 Repaired? Send it to our tool repair department for a quick turnaround. The A483 is generally available rebuilt, please call for pricing. Call Allstrap for an in-person demonstration. We keep Fromm tools in stock, and have more experience
with HD strapping than anyone in the country!
Specifications:
Strap Qualities: High tensile strapping (Ultraflex)
Strap Dimensions: 32.0 x 0.80 - 1.00 mm 1 1/4" x .031"- .040"
Sealing Type: 1.25 Inch Push Seal
Weight: 39.7 lbs./ 18kg
If you need mobility, look at the battery powered Grippack 114 Sealer and Grippack 114 Tensioner. These are great alternative tools for steel strapping that take the weight and hassle out of pneumatic tools. Both of the Grip Pack tools run on 18 volt Bosch batteries and can perform up to 300 cycles per charge. The tensioner pulls up to 1,500 pounds of tension and the sealer applies a secure seal at the joint. Both the Grippack 114 Sealer and Grippack 114 Tensioner reduce operator fatigue as the weight of each tool is much less than the A483, and eliminates the use of pneumatic air lines on the work room floor.
Allstrap Opinion:
The Fromm A483 pusher tool is a great tool for round/pusher applications like steel service centers. We highly recommend this tool. The tool is fast, and wear parts last a long time.
Videos
Fromm A483 Pneumatic Push Style Combo Tool for Steel Strapping
Related Products