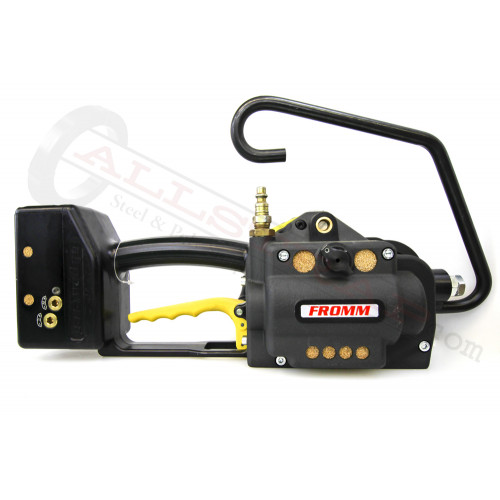 In Stock
---
Available Options
P359 Fromm
Fromm P359 Pneumatic Polyester Strapping Tool
The Fromm P359 tool is the newest addition to the Fromm family of pneumatic powered poly strapping combination tools. The sleek design of this tool makes it look like the Fromm battery combination tools for poly strapping, but it pulls much more tension because of the pneumatic function. This heavy duty tool accepts strapping from 3/4"- 1 1/4" and as one of the strongest tools in its class, the P-359 pulls 1,570 pounds of tension. As with other sealless tools, overhead costs are greatly reduced when using sealless tools because the cost of metal seals is eliminated. Also, the price of plastic strapping is generally more cost effective than steel.
The P359 has the ability to run in either semi-automatic or manual mode. The buttons on the tool allow the operator to decide which feature best fits their strapping needs. As stated, the max. tension is 1,570 pounds, but that can also be adjusted based on each application. Since it applies a friction weld seal, it is important to allow sufficient cooling time for the heat weld seal, and this tool can adjust the sealing and cooling time to ensure the package is securely sealed. Pneumatic tools are extremely heavy when compared to manual or battery tools. However, the P359 Fromm tool is one of the lightest weight pneumatic tools on the market, weighing only 19 pounds. The fact that it tensions, seals, and cuts all in the same tool saves operator energy and makes the process much more effective.
Because this is such a heavy duty tool, it is important that the strapping holds up for the applications it is banding. Poly strapping has the highest shock resistance of any type of strapping and it also has a high elongation, which means tighter packaging upon transport. Unlike steel strapping, plastic strapping doesn't leave scratch marks or rust stains on whatever is being packaged, and because there are no sharp corners, it is much safer for the operator to handle. If you like the Fromm family of tools, but think the P359 is a little heavier than you need, there are similar tools that can accomplish the same functions for different strapping sizes. The Fromm P356 is a plastic strapping combo tool similar to the P359 but it uses strap sizes 5/8"- 3/4" and can pull up to 830 pounds of tension. For even lighter applications, the Fromm P355 uses 3/8"- 5/8" strapping and can pull up to 470 pounds of tension.
Strap Qualities: Polyester (PET)
Strap Dimensions: 1" or 1.25" x .040 - .053"
Max. Tension: 1,570 lbs.
Sealing Type: Friction-weld sealing
Weight: around 19 lb.
Allstrap Opinion: Fromm's P359 pneumatic combination tension and weld tool is awesome! It pulls great tension, and can use the strongest PET strapping on the market (click to link). The P359 is the safest pneumatic tool to use on HD PET strapping thanks to brains in the tool that guarantee the weld sets. This is the only pneumatic powered strapping tool that locks the weld down, effectively eliminating the risk of an operator pulling the tool open before the weld is solid. The lock down is a really really big deal! If your looking for a 1" or 1 1/4" pneumatic bander, buy this tool! Fromm's battery powered 1 1/4" P331 is available here (click to link)
Videos
1 1/4 x .050 PET Strapping Video
Related Products