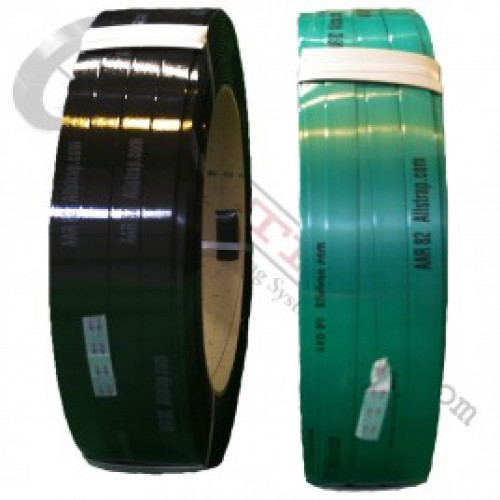 In Stock
---
Available Options
MPC11450G
1.25" x .050" Polyester Strapping (1.25" x .040" has extended lead time)
The 1.25 inch by .050 inch polyester strapping has a minimum 3,800 lb. break strength, making it our most popular plastic banding. This is the HD strap that is replacing steel strapping! There are so many more benefits to using poly strapping, and making the switch from steel. The main reason companies are making the jump is because there is NOTHING safe about steel strapping. The sharp edges pose a huge threat to linemen and anyone who removes the strapping at time of delivery. With poly, there are no sharp edges, eliminating the chances of injury on the site. Poly also has great elongation, and recovery. Look for this strap to replace 1 ¼ inch steel strapping in most applications in the years to come. This is the strongest PET strap in the USA.
Buy poly strapping exclusively from allstrap.com. It works with manual tools for very fast ROI, pneumatic tools for high capacity in line operation, and combination battery tools. The 1.25 inch x .050 inch polyester strapping is used in automotive supply chain, aluminum, lumber, steel processing, paper and pulp industries. This product is available printed with AAR 82, and has been approved for use on the railroad. Are you new to poly strapping or considering a switch from steel? Allstrap can walk you through it in your plant!
Advantages

Not only does it eliminate the safety risk, but the tools used with poly banding are much easier, faster and affordable than steel tools. Battery and pneumatic tools are 30% to 50% faster than steel strapping and cord strapping tools. Poly tools save your operators time, effort and provide greater opportunity for increased workflow. The overall cost for plastic strapping is lower than steel, too. On average, the price per foot is 1/2 the cost of steel strapping, and up to 50% less then cord strapping!
The new P331 is the best battery banding tool for poly strapping on the market currently. It fits 3/4" to 1 1/4" poly strapping and is a combination tool that tensions, seals and cuts. The P331 is lighter than steel banding tools and it has a new feature that holds the weld down, making the operator unable to remove the tool until the weld cools. That's a huge advancement because you can be sure that every weld has set, with lower chances of breaking in transit.
The Fromm P359 tool is also new for poly strapping. It is a pneumatic tool that uses air for power. Like the P331, it's also a combination tool that tensions, seals and cuts. It is much heavier than the P331 and needs to be suspended for stationary banding. This tool is the strongest in its class and pulls over 1,500 pounds of tension. It's a tough tool that won't break down after constant use. It uses 3/4" to 1 1/4" strapping, and its little brother, P356 uses 5/8" to 3/4" poly.
Allstrap Opinion:
It is time for you to switch to 1 1/4" x .050" poly strapping. Now that the tools have caught up to the 1.25" width of the PET strapping with the pneumatic Fromm
P359
, the Signode battery powered
BXT3-32
and the Fromm battery powered
P331
it is easy to switch. You can justify the investment in the tool through huge cost savings on a per foot basis, and eliminating the clip/buckle. Safety is improved by getting rid of the sharp steel strapping (1 steel strapping injury justifies a switch). Productivity increase 3 fold if you are coming
from two piece tools like the PN2/RCNS or
33% from combo tools like the PRRH. The battery guns are lighter,
balanced with ergonomics
making it much easier on the workers. We would put this 1.25" x .050" PET strapping everywhere, and you
should
too!
Videos
1 1/4 x .050 PET Strapping Video
Fromm P331 Battery Strapping Tool
Related Products