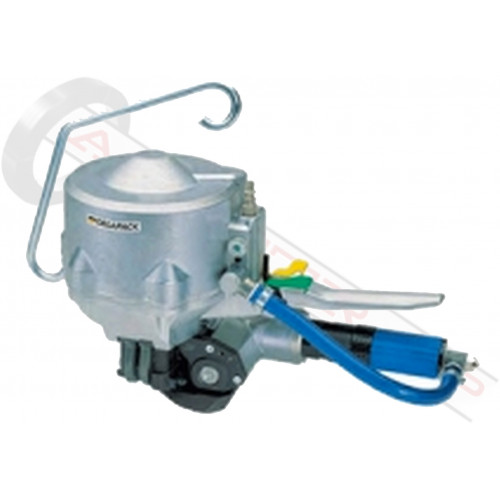 CR-26A
CR-26A Orgapack Pneumatic Pusher Strapping Tool
Orgapack
Usually Ships in 2-5 Days
---
Available Options
CR-26A Orgapack Pneumatic Pusher Strapping Tool
CR-26A Orgapack Pneumatic Pusher Strapping Tool
The Orgapack CR-26A is the lightest 1.25 inch steel strapping pusher tool on the market. Other pusher combo tensioner sealers must be counter balanced, but the Orgapack CR26A is light enough that it can be carried. At 20 pounds, it isn't light, but it is half the weight of many other strapping tools. This pneumatic tool uses compressed air for power and is ideal for package and pallet strapping. This tool is flexible because it can strap round, small and irregular shaped packages that require a heavy duty application. This tool can also come with a universal swivel suspension bracket.

Another similar tool is one of the most popular on the market. The Fromm A483 is a heavy duty pneumatic strapping tool that is fast, efficient, and has many of the same qualitites as the Orgapack CR-26A tool. One difference is that the Fromm tool is heavier in overall weight . It also offern a semi-automatic function with two button operation. To get away from heavy pneumatic tools and steel strapping completely, the Signode BXT2-32 battery combination tool for poly strapping performs all of the same functions in quicker time, lighter weight, more mobility, and eliminates air lines on the work room floor. The battery tools perform a friction-weld seal which also eliminates the cost of metal seals.
Strap Width: 1"- 1 1/4"
Strap Thickness: .031-.040
Strap Type: HT
Seal Type: Push Style 1.25 Inch Push Seal
Weight: 20 pounds
Max. Tension: 1,890 lbs.
The CR-26A is generally available rebuilt, please call for rebuilt pricing. Need your CR-26A Repaired? Send it to our tool repair department for a quick turnaround.
Allstrap Opinion:
The CR26A is a good tool. This tool is the lightest pneumatic combo tool on the market, and that is the main reason we would suggest this Orgapack tool. But, most pneumatic tools have now been switched over to steel strapping battery tools (click to link), or to 1 1/4" poly strapping. We suggest looking at them!
---
Related Products