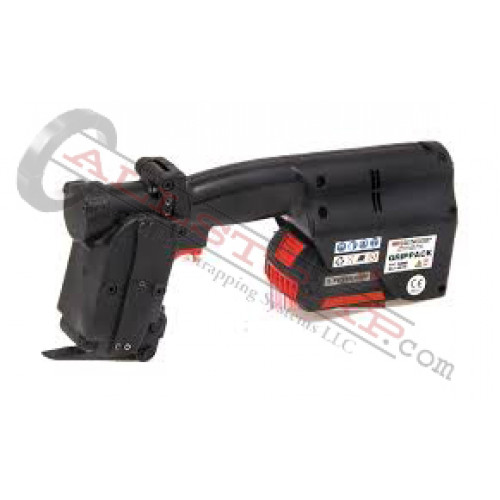 GripPack Cutter
Grippack Cutter
Signode
Usually Ships in 2-5 Days
---
Available Options
Grippack Cutter
Signode GripPack Battery Powered Cutter
Update 12-23-22, we do not expect to have this tool in stock for 6-12 months. Our 2020 orders are still not here, and everyone in the world is having the same problem. Check out the combo tool as a potential alternative https://www.allstrap.com/kodiak

The Signode GripPack Cutter is a battery powered cutter for steel or plastic strapping! This lightweight battery operated grip pack cutter makes it easier for the operator to stay safe while using plastic or steel strapping. With minimal effort, cut up to 2 pieces of 1-1/4 x .050 strap offering two modes of operation; a button for loose strap to maximize the cutting speed and one for tensioned strap to grant operator safety.
Versatility:
From the Manufacturer: In the tensioned strap mode, the GripPack cutter holds the tensioned strap in place during cutting and keeps one end of the strap in its serrated jaws after cutting. The result is one-handed operation that allows operators to safely position themselves away from the single rebounding strap end.
Order Parts & Tool Repair:
Need your GripPack Cutter repaired? Send it to our tool repair department for a quick turnaround. Call Allstrap for an in-person demonstration. We keep Signode tools in stock, and have lots of experience with HD strapping.
Specifications:
Strapping: Steel or plastic strapping
Size: 1-1/4" x .050"
Cutting Rate: 240 cuts per charge
Weight: 7.5 lb.
Part Number: 800770, 800976, 800977
Please confirm lead time for the Grip Cutter, sometimes it is not in stock.
Allstrap Opinion:
This is a fantastic lightweight cutter! The Grip Cutter tool does all the work allowing you to stay further away from the ends of the cut banding. With one side of the strap clamped, you know which end will fly when the bands are under tension. We welcome the new family of battery tools including GripPack 114 Sealer and GripPack 114 Tensioner!
Update 4-2022:
The Grip Pack Cutter tool has been backordered for close to a year now with no end in sight. My guess is if you ask Signode when the battery cutter is available you will hear something like 4-6 weeks. After that time is up, you will likely hear that again and again and again... Looks like it might be a long time till anyone gets Grip Pack Cutters...
Videos
Signode's Grip-Cut
Signode Grippack Cutter
Related Products