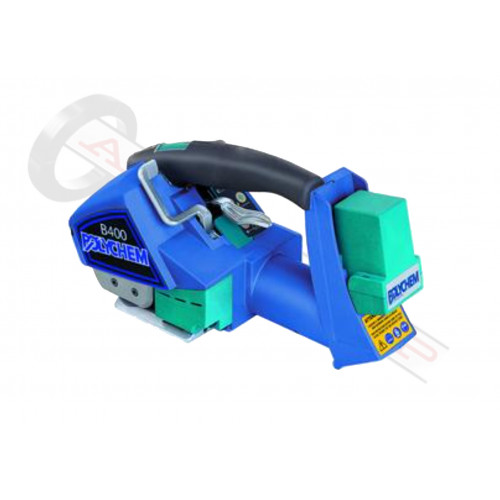 Usually Ships in 2-5 Days
B400 Battery Powered Friction Tool
The B400 is Polychem's 1/2" and 5/8" strapping tool. It pulls up to 600 pounds of tension. You can use the B400 tool on PP or PET strapping. You can expect 200 straps applied for one battery.
The B400 comes with 2 batteries and a charger.
There is only one manual mode for this tool:
Manual: hitting the tension button will pull tension. You can let go of the button to stop the B400 from pulling tight. This is useful if you need to put corner protectors on, or if you have a delicate package. Flip the weld lever to make the Polychem tool weld and cut the strap.
The bigger Polychem B1200 is for 5/8" and 3/4", the B600 is for 1/2" or 5/8", click to link.
Strap Qualities: Polypropylene (PP) and Polyester (PET)
Strap Dimensions: 1/2", 5/8" x .019" - .041"
Max. Tension: 450 lbs
Sealing Type: Friction Weld
Weight (including battery): 7.9 lbs
Tensioning Speed: 9 m/min
Joint Strength: 80% of breaking
The B400 is generally available rebuilt, please call for rebuilt pricing. Need your B400 Repaired? Send it to our tool repair department for a quick turnaround.
Allstrap Opinion: We would not consider the Polychem B400 because of some horrible choices made in the tool. The Fromm tools use Milwaukee batteries. Orgapack, Signode, and Zapack use Bosch. Golden Bear use Metabo batteries. All can be found in your local hardware store. The B series tools use their own "proprietary" battery, making these batteries 1) hard to get 2) obnoxiously expensive and 3) under powered and under capacity (14.8V, 2 Ah as of 12-19).
From our tool technicians, "the B400s are plagued with electrical problems, and they do not get nearly the cycle count as they should before they break down". The B400 still has a lever that other companies got rid of because they break off, and could cause a bad if not done properly.
Do yourself a favor and look at the more reliable alternatives.