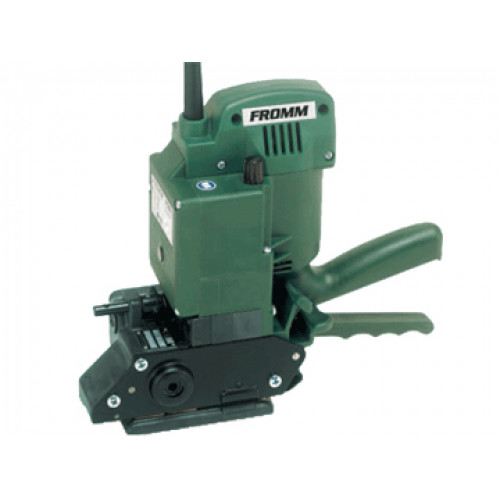 P300 Electric Sealless Plastic Strapping Tool
The Fromm P300 is discontinued. It is replaced by the battery powered P328 and P329 tools
Strapping Qualities: Polypropylene (PP) and Polyester (PET)
Strapping Dimensions: widths 10.0 - 16.0 mm / 3/8 - 5/8"
Thicknesses: 0.40 – 0.80 mm / .016 - .031"
Weights: 4.3 kg / 9.4 lb. without suspension / 4.4 kg / 9.7 lb. with suspension
Average Seal Strength Approximately: 75 % (dependent on strap quality)
Sealing Method: Friction weld seal
Strap Tension: infinitely variable adjustment up to max. 1600 N / 360 lb.
Tension Speed: 170 mm/s / 6.7"/s
Suspension (optional): Universal suspension bracket; has to be ordered separately
Accessories: Bottom base wearing protection plate
Allstrap Opinion:
The P300 was a great tool. It has been around since at least the 1990s, and was phased out after the P320 battery tools started taking over the strapping duties. We miss the plug in electric P300, but love today's battery tools!
Related Products