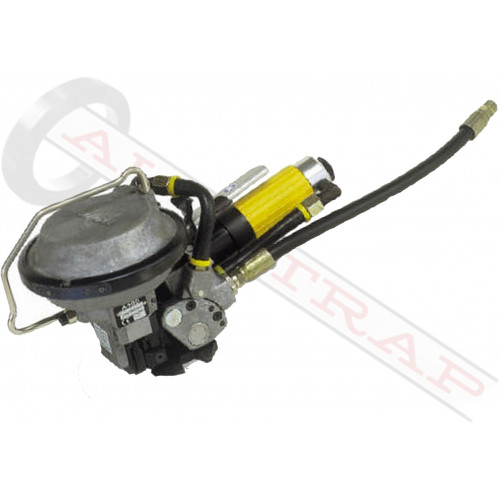 In Stock
---
Available Options
Fromm A480
Fromm A480 Pneumatic Steel Strapping Pusher
The pneumatic A480 Fromm combination steel strapping tool is used with 1/2", 5/8", and 3/4" steel strapping. Due to its low weight in comparison to other pneumatic push style combination tools, the Fromm A480 does not have to be suspended. This permits mobile operation. Ideal for strapping tubes, wire coils and all kinds of small bundles, the A480 is a handy and popular tool in numerous industries. This tool uses push-seals which are ideal for round and narrow packages. The seal is pushed by the tool with the steel strap threaded through to pull the tension.
Versatility:
The A480 is the most convenient pneumatic strapping tool on the market because of its light weight and compact design. Not only that, but the fact that the foot plate is relatively small allows this tool to strap unique, round and awkward packages because it can squeeze into a tight place. Fromm has always been concerned with the ergonomics of their tools, and the A480 is no different, offering a user friendly interface. The A480 guarantees a strong joint above the ASTM requirements. To account for different banding, the distance between the roller and the pad can be adjusted, as well as the cutter depth.
Other options:
Order Parts & Tool Repair:
Like all Fromm tools, the A480 has been well received in the industry and users feel it is more convenient than other heavier pneumatic tools. This steel strapping tool comes in two tension versions depending on the application. Wear parts and every part for the A480 can be ordered online under the "Order Parts" tab below! The common wear parts for the A480 include:
Feedwheel A48.1221
Cutting Jaw A48.1101
Notching Knife A48.1105
Cutter A48.1124
The A480 is generally available rebuilt, please call for rebuilt pricing. Need your A480 Repaired? Send it to our tool repair department for a quick turnaround. Call Allstrap for an in-person demonstration. We keep Fromm tools in stock, and can help with your application!
Specifications:
Strap Qualities: High tensile (Ultraflex) or regular duty
Strap Dimensions: 10.0 – 19.0 x 0.38 – 0.63 mm / 3/8 – 3/4" Wide x .015 – .025" Thick
Tension Versions: 2500 N, 4500 N
Sealing Type: .75 Inch Push Seal
Weight: 4.5 kg / 9.9 lbs
Allstrap Opinion:
We like the A480 if your going to stay with steel strapping. But many people can switch to a plastic strapping which is much easier to use, and safer. Today's plastic tools are incredible, you should switch if you can (and most people can).
Videos
Fromm A480 Pneumatic Push Style Strapping Combo Tool
Related Products