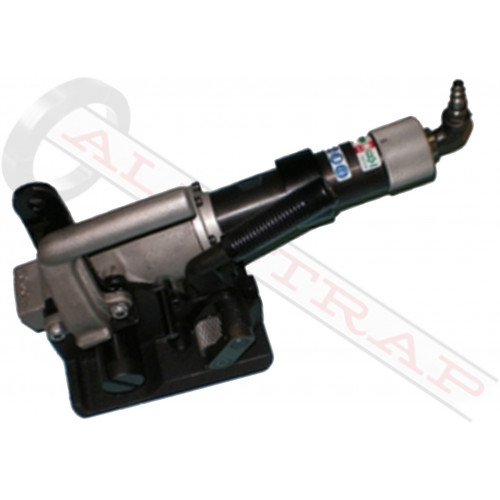 Usually Ships in 2-5 Days
WP-2 Signode Windlass Tensioner
Signode pneumatic tensioners take most of the effort out of strapping large or compressible packages. They also make tensioning uniform and precise through adjustment of the air pressure regulator. The Signode WP-2 pulls more tension than any other tensioning tool. For example, the Signode PN2-2 only pulls 1,600 pounds tension, compared to the WP-2 that has a maximum tension of 8,000 lb. Since this tool has very few wear parts, its longevity is also greater than other tools.
The Signode WP2 tool is unique because it features a windlass component. Most tensioners have the common feedwheel operation. Windlass tensioners provide the greatest amount of tension in a single application, over feedwheel and sealless tensioners. Due to the large amout of tension the windlass can pull, the WP-2 is used only with high tensile strap .050" thick so it can withstand the amount of tension applied. Industries that do a lot of heavy duty packaging can greatly benefit from the use of the WP-2 tool. The industries most commonly using this tool include the lumber, roofing, and anywhere that packages plate steel.
Strap Qualities: Magnus, Painted and Waxed
Strap Dimensions: 19 - 32 x 0.63 – 1.27 mm / 2" wide - .050" thick
Max. Tension: 8,000 lb.
Sealing Type: 2 Inch Thread Seal
Sealing: With separate sealer NS-250-65L or the new battery powered BC-250
Weight: 23 lbs.
The WP-2 is generally available rebuilt, please call for pricing. Need your WP-2 Repaired? Send it to our tool repair department for a quick turnaround. This tool may have a longer lead time, please call to verify.
Allstrap Opinion: Signode's WP2 is the strongest tensioner on the market. Many of our customers are switching their 2" steel strapping to a 1 5/8" or 2" lashing and using the battery powered C11 (click to link) that pulls 2,800 pounds of tension, or the pneumatic lashing tool A11 (click to link) that pulls over 3,000 pounds of tension. Many rail shipments now are mandated to use lashing, but if your the unlucky company that still uses 2" x .044" steel, and need massive tension, this is your tool. For lighter tension, you could also use the PN2-2 (click to link). The WP-2 Holds up very well, we often get a decade between PM.
Videos
Signode WP2 tensioner and Signode NS250-65L Sealer
WP2 Signode Pneumatic Tool Spin
Battery powered 2 inch and HD 1.25 inch steel strapping crimper sealer
Related Products