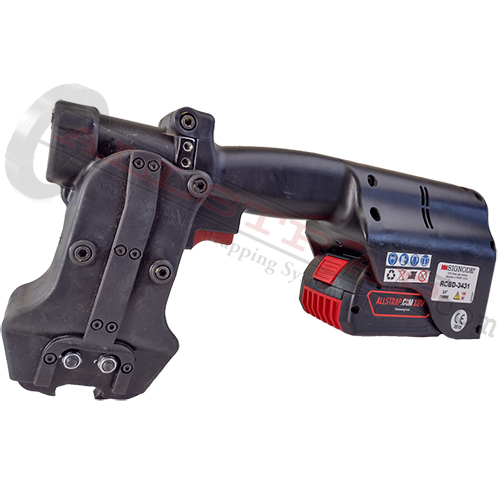 GripPack 34 DN Sealer
34DN 114DN
Signode
Out Of Stock
---
Available Options
34DN 114DN
Signode GripPack RCBD-3431 Double Notch Sealer
Update 4-22: the 3/4" option is purchasable on the RCBD-1431 page, please click to link.
Signode's GripPack DN is the first double notch battery powered sealer in the industry. There are two versions for different width band (¾" and 1 ¼"):
GripPack 34 DN works with .75 inch steel strapping .025"-.031" thick

Uses heavy duty seals

The sealer weighs ~7.5 pounds

We expect around 250 sealing cycles per battery
Now you can take the work out of sealing, and get rid of the tripping hazard pneumatic line with the same tool! It runs on an 18 volt battery, and Allstrap offers the upgraded 6 amp hour battery as standard. Add the battery and charger, or extra batteries a la cart (part number 800293, 800294). Tool part number 800670.
Allstrap Opinion: This is an easy to use sealer. In 2015 you were forced to use a hand sealer (like the MIP3100) or a pneumatic (like the RCNS2). Since air power ties you to a single location, and is expensive to use and maintain, we love the battery tool! It is also a huge safety improvement to lose the trip hazard, and make it easier for operators. We suggest trying the GripPack 34 DN and GripPack 114 DN sealer!

Update 12-22: We are having way too many problems with Grip Pack tools. Signode said the problem is fixed with the new batch, but we have tools dead on arrival, and dead after a week. If you don't care that Signode does not accept the warranty claim for a month or two, then go right ahead and buy it. Otherwise, let's wait to see if the mechanical and circuit board problems get figured out on the Grip Pack tensioners, sealers, and cutters. This Grip Pack sealer is waiting for corrections by Signode and is expected to be available soon. It is not available at Allstrap, or anywhere.

Videos
Signode 34 DN Double Notch Sealer
Signode Tools Comparison
Related Products