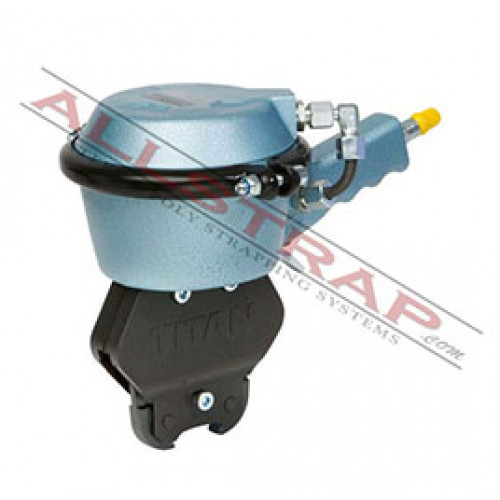 Titan SPZ- Pneumatic Sealer for Steel Strapping
Titan SPZ is a pneumatic sealer for steel strapping with easy application up-notch seals. This pistol grip sealer offers a unique feature unlike other sealers. The SPZ has adjustable direction for seal application meaning the joints can be sealed either parallel or perpendicular to the tool operator. Titan offers a dispenser that fits this tool which makes it easy and convenient to strap at any angle all over the work room floor. This tool is ideal for unique or difficult strapping situations. With easy to access and change wear parts, the repair on this tool is simple. To stay in the Titan family, the separate tensioner, PR33 accommodates the strap dimensions of the SPZ. Also, the Fromm A452 works nicely with this tool, as it is one of the leading pneumatic tensioners in the steel strapping industry.
Strap Qualities: High tensile (Ultraflex)

Strap Dimensions: 19.0 - 32.0 x 0.63 - 1.00 mm / 1.25" x .025" - .031"
Tensioning: with separate tensioner A452
Tensioning Strength: Up to 1800 lb. of force
Used with seal: 1.25 Inch Snap Seal, 1.25 Inch Push Seal
Weight: 7 lbs, 4 oz
Max. Air Pressure: 90 psi
The SPZ is generally available rebuilt, please call for rebuilt pricing. Need your SPZ repaired? Send it to our tool repair department for a quick turnaround.

Videos