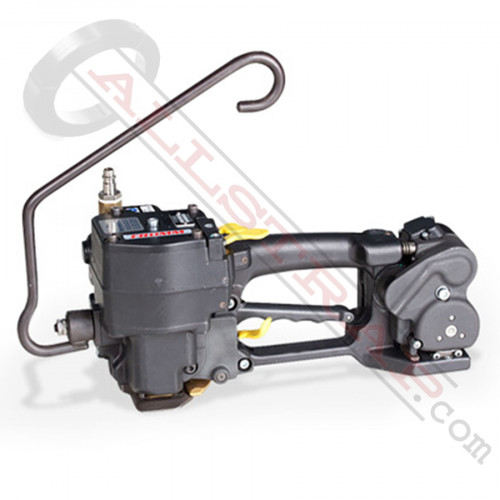 In Stock
---
Available Options
Fromm P380
Fromm P380 Pneumatic Strapping Tool
The Fromm P380 is the first pneumatic sealless plastic banding tool on the market capable of strapping round and irregular objects. The pneumatic power and 15 pound weight make it easy to use. It comes with a suspension bracket that lets you counter balance it vertically or horizontally.
The P380 made two changes over previous strapping tools. The feedwheel and the welder are now separated, the feedwheel has moved behind the welder. This makes the foot under the strapping much smaller. A smaller P380 foot means it is easier to pull out from under tight strapping. Most other strapping tools have a base under the feedwheel that swings out away from the strapping. That is not possible on round applications, and Fromm P380 has solved the problem. The Fromm P380 is now the standard for pipe, bar, and other round packages of small diameter bunks.
The adjustable tension levels on the P 380 tool can accommodate any application size and the weld is guaranteed to be strong and secure. The P380 is reliable and a cost effective addition to any shipping area. The P380 does not leave marks on the surface of the strapping or leave scratch marks on galvanized and coated products. It applies a clean, strong seal that is dependable throughout the package's transportation.
Other Options:
1. Steel strapping tools like the Fromm A483 and Signode PRHR-114 for 1 1/4", or the PNSC2 and A480 for 1/2-3/4"
2. There is a competing round bundle battery tool expected to be released August 2016, check back for updates.
Pneumatic tools are quickly being replaced with battery tools that complete the strapping process just as quick, but allow greater transportation throughout the shop. There are battery powered combination tools that take the excess time out of switching tools for different processes like tensioning, sealing and cutting. Our favorite battery combination tools for 1/2"- 5/8" poly strapping are the Orgapack OR-T 250 and Fromm P328. For 5/8"-3/4" we like the OR-T400, and P329. The P329 tool comes highly recommended by Allstrap and has an excellent reputation in the strapping industry. The Fromm P329 has a solid base, and can do rounds of larger diameter, 30" and up.
Tool Repair:
Need your Fromm P380 repaired? Send it to our tool repair department for a quick turnaround. Call Allstrap for an in-person demonstration.
Specifications:
Strapping Qualities: Polypropylene (PP) and Polyester (PET)
Strap Widths: 13.0-19.0 mm / 1/2" - 3/4"
Strap Thickness: 0.40-1.35 mm / .016-.053"
Weight including Suspension Bracket: 6.8 kg / 15 lbs
Tool Sizes with Suspension Bracket: L390 x W135 x H305 mm / 15.4" x 5.3" x 12.0"
Average Seal Strength: Up to 75% (dependent on strap quality)
Type of Seal: Friction weld sealing
Strap Tension: 600 – 2000 N / 135 – 450 lbs (adjustable)
Tensioning Speed: 120 – 260 mm/s 4.7 – 10.2 inches
Max Air Pressure: 6.0 bar / 87 psi
Allstrap Opinion:
We like the P380 because it is the ONLY tool that can do small rounds with plastic strapping... but, it is a pain to use. The banding has to be separately inserted into the bander, flip a lever, insert the other band, and finally your running. It takes 3x longer to use this tool then other Fromm tools.
Videos
Fromm P380
Fromm strapping tools for polyester banding
P380 Pneumatic Strapping Tool
Related Products