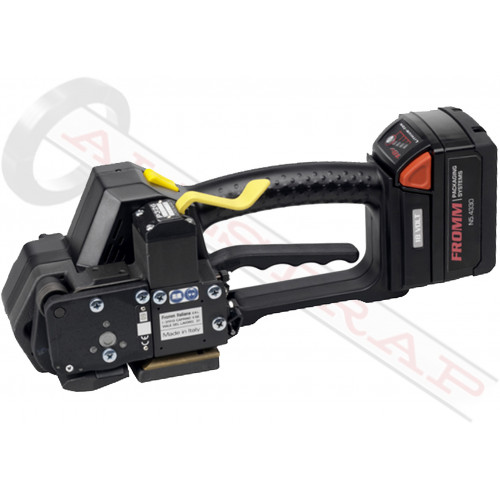 Discontinued
---
Available Options
Fromm P326
Fromm P326 Lithium Ion Battery Strapping Tool
Update: The P326 has been replaced by the Fromm P328.
The Fromm P326 is a warehouse's dream come true. Unlike pneumatic tools, this battery operated tool is easy to handle, light weight, and cord free. If you're looking for this same tool for larger strapping, the Fromm P327 (P327 was replaced by the P329) is the way to go. It is the big brother of this P326 tool, and is stronger and reliable.The P326 fits strapping sizes 1/2"-5/8" . For an even bigger tool than the P327, the P331 uses 3/4"-1" - 1 1/4" poly strapping. All three of the P series Fromm battery tools are leaders in the strapping market.
Fromm P326 comes with numerous advantages over other battery tools for poly strapping. The P326 has a new reinforced single 18 volt motor that operates the tension and sealing process, which reduced its overall weight to 8.7 pounds. The power supply battery is Li-Ion 18 volt that allows up to 200 strap cycles per battery charge. Its one hand operation makes the process quick, simple, and uses less man power than traditional hand tools. The adjustable tension force of the P326 allows the operator to choose the force based on individual applications. The average seal strength is up to 75% (dependent on the strap quality.) There is a new larger capacity lithium ion battery available. The new Fromm P327 gives 1/3 more run time to your Fromm strapping tool.
The P326 is used in a number of industries:
-Ceramic and tile
-Plastic industry including plastic sheet and plate
-Automotive
-Rubber
-Cotton and textile
-Food processing
-Transportation and logistics
-Cable and wire
Other Options:
1. For 1/2" or 5/8" use the new P328.
2. For 5/8" or 3/4" use the stronger P329.
3. The Signode BXT2-16, or BXT2-19. update 9-21 now the BXT3-16 and BXT3-19
4. Manual tensioner like the ASC320, and sealer like the ASC330.
Order Parts & Tool Repair:
Fromm P326 parts can now be easily ordered online through Allstrap! Click "Schematics" tab above, and browse the P326 Schematics to find the part you need, and add it to your cart! The P326 is generally available rebuilt, please call for rebuilt pricing. Common P326 wear parts include:
Feedwheel P32.1220
Welding Gripper P32.1053
Welding Stop Gripper P32.1203
Cutter P32.1204
Gripper P32.1225
Gripper P32.1226
Gripper P32.1227
Electric Motor P32.2078
Strap Qualities:
Strap Dimensions: 1/2 " - 5/8" x .016 -.041"
Max. Tension: 540 lbs.
Sealing Type: Friction Weld Sealing
Weigh: 8.7 pounds including battery
Tool Size with Battery: 13.8" x 4.8" x 5.1"
Tensioning Speed: 3.3" - 7.5" (85 - 190 mm)
Competing tools: ORT260, BXT3-16
Allstrap Opinion:
05-16 Review: The P326 was an overall good tool. For its first year it had trouble with the motor, and the motor is still more exposed to drops than I would like. But this Fromm tool was fairly tough, and easy to use.
We now suggest The P328 or P328S, which are hands down the best strapping tool available. The single base makes it easier to use, and gives the ability for smaller and round bunks. The single base makes it more resistant to damage when dropped, making this one though tool. Click to link to the new P328 page for more information.
Videos
Fromm P326 battery poly strapping tool
Fromm strapping tools for polyester banding
P326
Fromm p326 p327 p330 vs. p328 p329 p331
Related Products