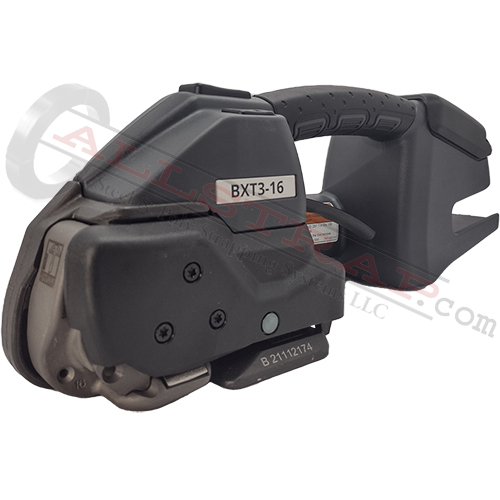 Signode BXT3 (also known as the BXT3-16) Battery Powered Strapping Tool
The BXT3-16 strapping tool keeps up many of the features loved on the BXT2-16. The BXT3 has a beautiful display screen that shows what the tool is doing, and can do. It is easy to adjust the tension, and weld settings, and to from flip manual mode to automatic. The display shows tension in real time with an indicator that ticks up as the tool is pulling the banding tight. In auto mode, the tool kicks into weld/cut once tension is reached, which makes the BXT3 a fast tool to band with!
The battery and charger remain Bosch, but now the battery is a slim pack. It uses the same charger. The feel and balance is similar to the original tool, which is best in class.
Tension is 90-560 pounds! The Signode BXT3-16 has optional charger and 2.0 Amp Hour 18 volt lithium battery. Run it on either 1/2" or 5/8" x .019-.040" polyester or polypro strapping. The BXT3 is only 8.4 pounds.
For 3/8" use the BXT3-13 or P318
For 5/8" or 3/4" use the BXT3-19 or P329

For 1" or 1 1/4" use the P331 or BXT3-32
Allstrap opinion:
This Signode BXT3-16 tool is of the easiest to use on the market. The weakest two parts on the BXT2 were upgraded. The blocking pawls (responsible for swinging the arm away from the feedwheel) was replaced by a spring. The second trouble spot for the BXT2 was things getting caught in the welding belt. The BXT3 now has a cover to keep big things out, and a blow out hole to get rid of the small things. The BXT3-16 is also much easier to work on for maintenance. With these improvements, the Signode BXT3-16 is now tied as our top recommended tool (P328 is the other top tool)!
BXT3-16 review update 4-2020: This Signode tool now relies on a Bosch battery that you can no longer get at Home Depot or Amazon. The BXT3-16 has a protective cover that hugs the battery. The cover was nice to make the battery hard to bang up, but now you can not use the current 6, 6.3, or 8 amp batteries, making the BXT3-16 battery expensive and outdated.
Videos
Signode BXT3
Quick Guide to Signode's BXT3 Series
Signode BXT3-16
Related Products