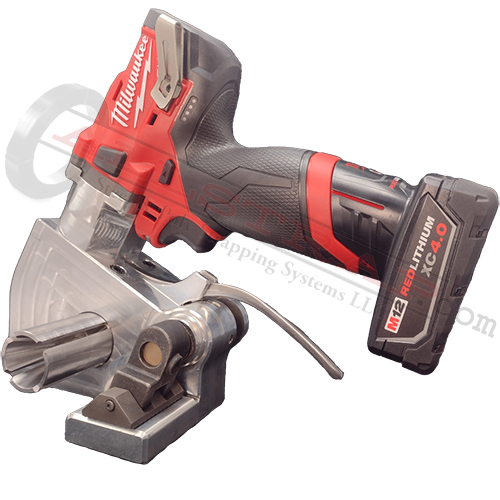 Golden Bear C12HD Battery Powered Cord Strapping Tensioner
The C12HD is a new tool from Golden Bear!
Use it on cord strapping for 3/4", 1", and 1 1/4" (woven and composite), or lashing 1 1/4", 1 1/2", 1 5/8"
The C12HD is a heavy-duty version of the C12, it has 2,000 pounds of tensioning power! It is powered by a brushless motor for a great run time.
Includes two 4-amp hour batteries and charger.
The CS12HD weighs 9 pounds.
The C12HD cord strapping tool is an upgraded version of the C12. It has the same form, but the insides are beefed up. It has 1 handed loading and unloading of cord strap. It has great motility with battery power. The stronger internal components only cost 1 extra pound and give the power a 2X boost!

Allstrap Opinion: We highly recommend the Golden Bear C12HD because of the simple operation and battery power. Losing the airline has been a major initiative in large US companies because of the trip hazard. Without an airline to pull behind you, you're free to take the tool anywhere. Roam through the warehouse, to a storage location, inside containers and in railroad cars. This tool is tough, light, and easy to use! If you are looking for a lighter tool, use the C12. For a stronger tool, use the Golden Bear C11 tensioning tool.

Videos
C12 cord strapping tensioner for wire bunk
Related Products