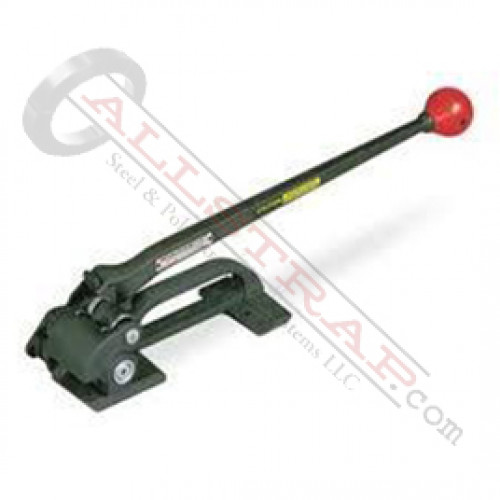 Usually Ships in 2-5 Days
Signode TH-34-114 Feed wheel Steel Strapping Tensioner
Signode TH-34-114 Feed wheel Steel Strapping Tensioner
The TH-114 is for .75"- 1.25" banding. Signode's TH-114 weighs 7 lb. and pulls lots tension. This tensioner is the largest feedwheel tensioner in Signode's tool range, the smallest is the Signode ST, the 3/4" is Signode T. The TH-114 is mainly used with 1 1/4" high tensile strapping.
To operate the TH34-114 tensioner:
1) Squeeze the handle to open the tool
2) Insert both straps under the feedwheel
3) Release squeezed handle to lower wheel
4) Crank lever to pull tension on strap.
Specifications:
Strap Type: High Tensile/Magnus
Strap Width: 3/4"-1 1/4 Inches
Strap Thickness: 0.025"- 0.035"
Tension: depends on operator, generally 500 pounds
Seal Name: 1.25 Inch Push Seal
Joint Type: Double notch with separate sealer
Weight: 7 pounds
Alternatives: Kodiak (battery combo tool), T34-114F (manual sealer), 1450 tensioner
Allstrap Opinion: This tool has been the work horse for many HD industries over the last half century. Today we see plastic strapping in many places steel was the only option because of tools like the P331 (Click to link), and you should evaluate if you can switch before buying another tool (Hint, I bet you can). The TH 34-114 is a good strapping tensioner.
Videos
Related Products