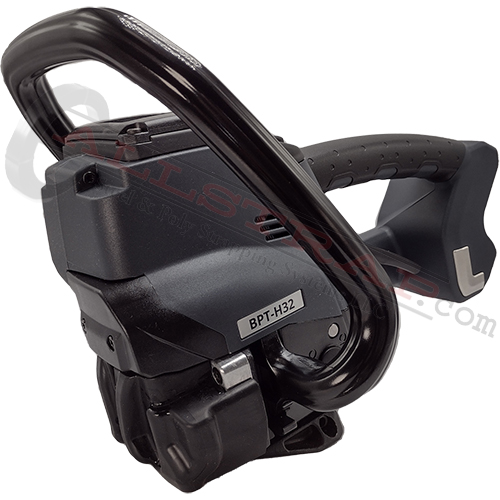 Signode BPT-H32 Battery Powered Push Style Combination Tool
Expected battery powered tensioner release Q4 2022 - Q4 2023
The Signode BPT-H32 is a double reverse notch sealer used with high tensile steel strapping, and recommended for use on round or irregular loads. Weighing 18.3 pounds (4 pounds more than the Kodiak combo tool), the BPT-H32 tool uses its nose to push the seal, a feedwheel to pull tension, and jaws to notch the seal in a full combination action. The BPT-H32 applies up to 1,600 lbs. tension to steel strapping. The BPT-H32 is a relatively easy tool to operate thanks to the two bottom control system. The strap easily slides out after each strapping cycle. The touch screen allows you to change the tension settings, or to switch between manual and automatic.
Signode BPT-H32 parts will soon be loaded onto the order parts tab of this page for replacement parts. The Signode 3/4" BPT-L19 tool should also be released soon.
Versatility:
How to Strap with the BPT-H32: While operating any strapping tool, safety precautions must be taken. Safety goggles and hand protection must be used and careful distance from the tool and the cargo must be maintained. First, thread the strap through the seal and wrap the strap around the load. Remove excess slack and pull opposite end back through the seal over top of the original strap. Hold the BPT-H32 in right hand and the strap in the other. Use the lever to lift the foot and slide the strapping in. Slide the tool forward as far as possible to ensure tight tensioning. Press the button to start tensioning. Once desired level is reached, the tool will automatically shut off. Press the sealing button to compete the sealing function until the tool automatically stops the sealing process.
Specifications:
Strap Type: High Tensile/Magnus
Strap Width: 1 1/4 Inches
Strap Thickness: 0.023"- 0.031"
Seal Name: 1.25 Inch Push Seal
Joint Type: Double Notch
Weight: 17.7 pounds (tool only, batteries approximately 1 or 2 pounds depending on capacity). This is an actual measured weight, not what is supplied by Signode.
Allstrap Opinion:
The BPT-H32 could be a great tool! This is the only the second tool on the market that pulls tension, and seals in the same tool. Traditionally steel service centers would take around the PN2-114 pneumatic tensioner, and T the air line into a second RCNS2-114 sealer, and at the end of the cycle the PN would be bent up and down until the band breaks. NOT ANYMORE! Now, one tool does everything. Pneumatic tools (PRHR-114) are switching to batteries, and we can't wait to get this in plants! Speed up your recoiler lines, and get this tool in your plant! BPT-H32 will replace PRHR-114 pneumatic tools, and we like switching to the battery power! While we do like the switch to battery tools, the Kodiak tool is about 20% lighter, which makes it much more mobile.