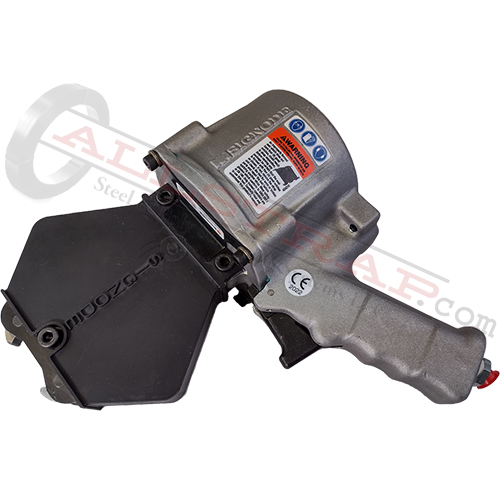 RCNS2-114
Signode RCNS2-114
Signode
In Stock
---
Available Options
Signode RCNS2-114
Signode RCNS2-114 Pneumatic Single Reverse Notch Sealer
The Signode RCNS2114 tool is commonly referred to as a pistol grip sealer, and it applies a single reverse notch seal joint on 1 1/4" high tensile steel strapping. With minimal wear parts, the lifespan of the Signode RCNS2 is extended, and has easily accessible parts should a repair need to take place. If the RCNS2 doesn't meet your strapping needs, a good alternative is the Fromm A461.
The most popular feature of the RCNS2-114 is the pistol grip design which makes this the easiest tool to operate single handedly. The casing of this tool is made with all metal alloys which keeps it safe and durable and maintains good operation throughout harsh strapping circumstances. This RCNS2 tool also comes available for 3/4" strapping as the RCNS2-34 sealer tool.
Signode RCNS2-114 parts can now be easily ordered online through Allstrap! Click the "Order Parts" tab below, browse the RCNS2-114 schematic to find the part you need, and add it to your cart!
Versatility:
Some of the most common uses of the RCNS2-114 tool include: installing street signs, construction of oil drilling platforms, in chemical plants and water treatment facilities, installation of cables and wires and securing cables on boats and ships. This high-tech tool reduces some of the intensive labor involved in strapping steel and other products. The pneumatic element saves operator time and fatigue with its quick application. Since a sealer only applies the metal seal at the joint, a separate tensioner must be used to pull the strap tight prior to applying the seal. We recommend two feedwheel tensioners that match well with the RCNS2-114. The Fromm A452 and Signode PN2-114 are both high quality tensioning tools that can complete the tensioning process easily. They are very similar tools which may come down to personal brand preference.
Order Parts & Tool Repair:
All wear parts and other parts for the RCNS2-114 can be ordered below in the "Order Parts" tab! Common RCNS2-114 wear parts include:
Side Plate 424126
Jaw 424134
Notcher 424127
Jaw Pin 424132
Boot 424138
Need your RCNS2-114 Repaired? Send it to our tool repair department for a quick turnaround! The RCNS2-114 is generally available rebuilt, please call for rebuilt pricing. Call Allstrap for an in-person demonstration. We keep Signode tools in stock, and have more experience with HD strapping than anyone in the country.
Specifications:
Strap Qualities: High tensile (Ultraflex)
Strap Dimensions: 32.0 x 0.63 - 1.00 mm / 3/4" - 1 1/4" x .025" - .031"
Tensioning: Separate tensioner A452 or PN2-114
Sealing: 1.25 Inch Snap Seal, 1.25 Inch Push Seal
Weight: 6.1 lbs.
Allstrap Opinion:
There is a new battery powered sealer available! Signode's GripPack Sealer for steel strapping.
Videos
Grip Pack 114 Signode Battery Steel Strapping Sealer
Grip Pack 114 tensioner vs. Signode pn2-114 and RCNS2-114
Signode PN2 & RCNS
Signode Tools Comparison
Related Products