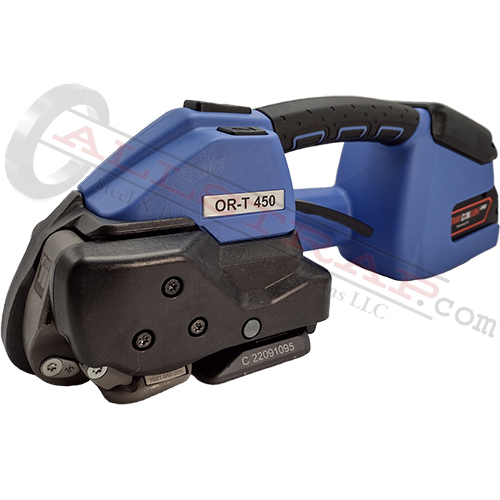 Price: $3,400.00
Specifications:
| | |
| --- | --- |
| Tool Length: | 13.1" (334 mm) |
| Tool Width: | 5.4" (138 mm) |
| Tool Height: | 5.8" (148 mm) |
| Tool Weight: | 8.5 pounds (3.9 kg) (including battery) |
| Tensioning Force: | Fully adjustable up to ~1000 pounds |
| Tensioning Speed: | 8.6 inches/second |
| Battery Charging Time: | Approx. min. 15-30 minutes |
In Stock
---
Available Options
OR-T 450
Orgapack's OR-T 450 Battery Operated Tool for Poly Strapping
The Orgapack OR-T 450 is now the most user friendly tool for plastic strapping that runs automatically, semi-automatically, manually or in soft corner mode, making it the most versatile tool for poly strapping.
The 450 model tool suits poly strapping size 5/8-3/4". Thanks to recent improvements from Orgapack, the new tools have an upgraded user interface. The display shows the applied tension in real time.
The 18 volt Li-Ion Bosch battery is now well protected. The OR-T 450 can complete up to 400 packages per charge. This tool has a fully adjustable tensioning force just over 1,000 pounds, and also has an adjustable strap width option. Orgapack's OR-T 450 seals automatically or with the touch of a button using a friction weld seal.
The ORT450 runs on Bosch 18 volt, 4 Ah batteries and rapid charger.
Versatility:
Tools that require metal seals to secure joints are a more expensive investment in the long run due to the price of regularly stocking metal seals. However, that additional cost is eliminated using an Orgapack ORT-450 because it applies a sealless joint using friction weld sealing technology.
The sealless and metal seals both hold the same joint efficiency, so there is no giving up seal security with this tool.
Another guarantee with the sealless tool is that the friction-weld seal will never rust or break down during transportation or storage. Poly strapping can withstand humid or damp conditions making it a better option over steel strapping and metal seals.
As opposed to manual tools that require a few steps to tension, seal and cut the strap, this OR-T 450 tool takes roughly 3 seconds to complete the entire sealing process, with a lot less effort than before.
To ensure accurate and precise tensioning, the digital display panel distinctly shows the set tensioning level with the option to change it depending on the application.
Another model, the Orgapack OR-T 260 is the smaller version of the 450 and uses 1/2" - 5/8" poly strapping. If you like the battery sealing technology of this Orgapack tool, but don't need the full combination action, try the OR-T 50 for small or light loads.
Tool Repair:
All wear parts and other parts for the OR-T 450 can be ordered below in the "Order Parts" tab! Common OR-T 250 wear parts include:
Tension Wheel
Tooth Plate
Knife
Need your Tool Repaired? Send it to our tool repair department for a quick turnaround.
Specifications:
Tool length: 13.1" (334 mm)
Tool width: 5.4" (138 mm)
Tool height: 5.8" (148 mm)
Tool weight: 8.5 pounds (3.9 kg) (including battery)
Tensioning force: Fully adjustable up to ~1000 pounds
Tensioning speed: 8.6 inches/second
Battery Charging Time: Approx. min. 15-30 minutes
Allstrap Opinion:
The ORT450 is a great tool. The problems with the ORT400 are all fixed in this updated version. The OR-T 450 is balanced perfectly, and works fast and easy. It is also a tough tool, we recommend the Orgapack ORT450 strapping tool! We suggest getting OR-T 450 with 2 batteries and 1 charger.
ORT450 review update 12-22:
This Orgapack tool now relies on a Bosch battery that you can no longer get at Home Depot or Amazon. The ORT450 has a protective cover that hugs the battery. The cover was nice to make the battery hard to bang up, but now you can not use the current 6, 6.3, or 8 amp Bosch batteries, making the ORT450 battery expensive and outdated.
Videos
Related Products